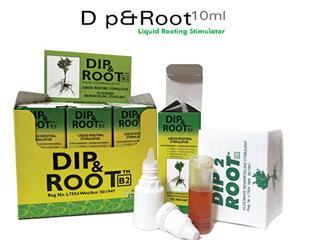 Cape Agricultural Products supplies and distributes rooting hormones in powder and liquid form to the horticultural industry and nurseries. Rooting hormones are used commercially to propagate ornamental plants vegetatively from cuttings for gardens and landscaping use, as well as fruit trees and vines.
Dynaroot
Dynaroot hormone powder increases the strike rate (growth of roots) of cuttings, and its success has been proven in many trials. The active Ingredient is 4-Indole-3-Butyric Acid (IBA). It is available in three concentrations for softwood cuttings, semi-hardwood cuttings, and hardwood cuttings. All three concentrations are available in 600g tubs or 3kg buckets.
Method: Moisten the lower tip of the cutting and dip it into the powder, shake off the excess powder and plant in the chosen rooting medium.
Dip & Root
Dip & Root is a liquid rooting stimulator that comes in 500ml bottles. It is diluted with water to the required strength. The active ingredients are 4-Indole-3-Butyric Acid (IBA): 10g/l and 1-Naphty-Acetic Acid: 5g/l
IBA Powder
Pure IBA (4-Indole-3-Butyric Acid) is available in powder form.
Phone Cape Agricultural Products on 021-8525708 or visit www.great-pruning-products.com.