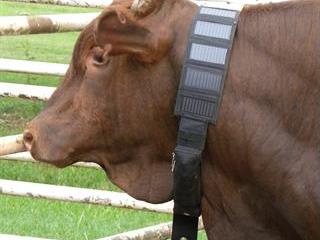 The Cattle GPS Tracker from Find Me Security Technology is a collar that incorporates a GPS sensor, a battery continuously topped up by 10 solar panels sewn into the outside of the collar, a transmitter using the GPRS network and an intelligent multi-function motion/tamper sensor. Made from practically indestructible black Cordura nylon webbing, it fits comfortably around the neck of the animal.
You can check the real-time location of the animal fitted with the collar on a smartphone, while SMS and call alert functions instantly alert you to any behavioural anomaly, such as breaking into a run when driven from the kraal at night.
Replica collars available
An interesting aspect of this system is that dummy collars, identical to a functional collar, are available at one-twentieth the price of the Real McCoy. Fitted to other cattle at a suggested ratio of one real collar per 20 animals in a large herd, this confuses and deters stock thieves as it is impossible to quickly identify a functional collar. During this time, the unnatural activity in the herd will sound the alarm for the owner.
Should a thief, against all odds, find a functioning collar, he would unwittingly activate the cut/removal alert function.
By mid-2016, the makers plan to fit a miniature camera to the collar, enabling live viewing.
The collar may eventually also be available in other colours (within reason) to match those of the animals they are fitted to. Currently it is only available in black, ideal for a Black Angus, Black Brangus, Drakensberger or Dexter.
Free web-tracking
Airtime-use (for an SMS and call alert) is highly efficient and economical, while web tracking (real time tracking indicating activity or inactivity) is free, being included in the device's once-off price. The price is R3 800 for the functional unit and R190 for a dummy unit. Both prices include VAT.

For more information, contact Justice Maphosa of Find Me Security Technology at 078 507 0550 or [email protected]. Skype: Justice.Maphosa35.