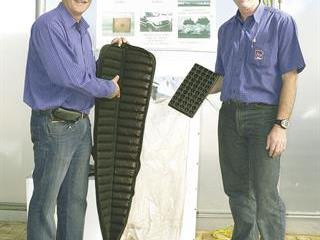 Intercept is a hi-tech military-specification packaging film. Developed by Lucent Technologies in the US and distributed in Southern Africa by Rhino Plastics, it protects corrodable products and equipment and keeps them in the same packaged condition for up to 25 years.
Items stored in Intercept won't corrode and lose their condition or value. Brian van Niekerk, Rhino Plastics' managing director describes Intercept as a plastic containing patented additives that, within minutes, absorb and neutralise any corrosive vapour or gas trapped within the packaging, or which might permeate it from the outside.
A desiccant is added to the contents of packages that need to be transported and stored in humid environments, effectively dealing with this potential problem.
"Intercept comes in a wide variety of applications and product types," Brian explains. "The military use it to wrap aircraft, firearms, and ammunition. The aviation and vehicle manufacturing sectors use it to store engines and other parts. "On farms and in households, it can be used to store firearms, ammunition, machinery spares, even clothing and jewellery.
A large bag made of Intercept can even be used to store a vintage car." The items needn't be coated in oil before being packed, saving the time and money needed to remove this coating before using the item again. Used oil is also a potential environmental hazard.
"Due to Intercept's versatility, we can only give clients the cost of the final product on application. They can tell us what they want to store, and we will have an Intercept-based storage product custom-made," stresses Brian.
"Due to its hi-tech nature, Intercept isn't a cheap consumer product, but it will more than pay for itself in the medium to long term by keeping an investment in top condition."