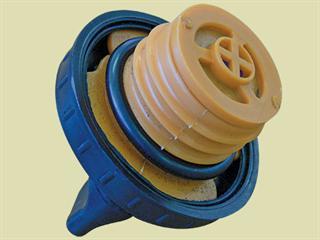 It is all too easy to pour petrol accidentally into the tank of a diesel vehicle, resulting in potential damage to the engine if you start and drive it. With petrol in the tank and diesel still in the fuel lines and pump, the engine will run until the petrol reaches the engine. The engine will then grind to a halt, stranding the vehicle and in all likelihood leaving you with an expensive repair bill.
Even if you do discover the error before you start the engine, it can still cost hundreds of rands to drain the tank and replace the contents. Figures for South Africa are lacking, but in the UK more than 400 diesel cars are misfuelled each day and about 7,5 million litres of contaminated fuel have to be disposed of annually. In the EU, with 65 million diesel-fuelled cars on the roads, a million are damaged by misfuelling every year.
The patented Diesel SmartCap, the first of its kind, prevents this. It replaces the existing tank filler cap on a diesel-powered vehicle and prevents the petrol attendant or driver from putting a petrol nozzle into the diesel filler neck. The SmartCap fits most small and medium diesel vehicles with conventional screw type filler caps, blocking the inlet. To remove it, the tip of the diesel filler nozzle is inserted into the recess in the cap and twisted anti-clockwise. Alternatively, the unique key included in the pack can be used. A petrol nozzle simply won't work as it has a smaller diameter.
The ratchet system prevents the cap from manual removal. The SmartCap is injection-moulded from high-quality polymer resin and offers a two- to three-year life expectancy and a six-month guarantee. Currently being launched, it will soon be available countrywide for about R220.
Products and prices were checked at time of article being publsihed.