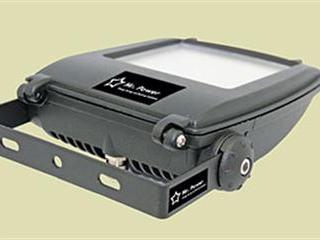 South African energy-saving and backup power specialist Mr Power recently added new locally assembled LED floodlights to its product range. LED lighting is becoming standard in most commercial and residential buildings. LEDs are increasingly being used due to their low energy consumption, long lifespan and versatility.
In addition to its dimmable and non-dimmable LED downlights, Mr Power also has a range of floodlights designed for outdoor use. These can withstand severe environmental conditions and have a long working life. They draw about 10% of the energy of conventional floodlights, produce a powerful light and come with a two-year warranty. Added benefits are that the light does not attract insects, emits little heat and will not burn plants. Above all, it offers peace of mind, ensuring that the perimeter of a home or farm remains well lit at all times.
All Mr Power LED lights operate on 220V AC. Prices range from approximately R400 for a 10W floodlight to about R3 200 for
the 100W model.