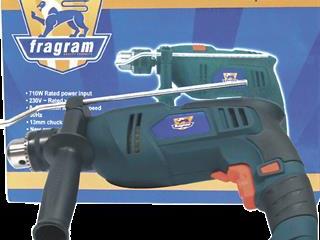 A good drill is an essential part of any handyman's toolbox. Fragram's new, affordable, state-of-the-art range of power tools includes two new 220V AC drills of 900W and 710W. They're perfect for many applications, anything from a quick fix around the house to DIY projects. The 900W Impact Drill with aluminium gearbox is compact, light and well balanced for easy operation.
It weighs only 2,6kg and has a newly shaped handle for a comfortable grip. It has a progressive no-load speed of 0r/m to 2 800r/min and a 13mm chuck so you can drill into concrete with ease, and easily insert drill bits. The 710W has similar features but is less powerful and, at 2,3kg, significantly lighter.
Like the rest of the Fragram range, the drills come with a two-year warranty. Although not designed for continuous, heavy construction work, these drills are nevertheless excellent for home use. They're available at selected Mica stores and independent hardware retailers nationwide. |fw
Products and prices were checked at time of going to print.