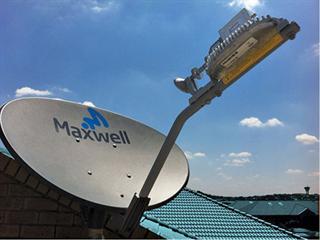 Maxwell Technology, a satellite-based communications and data solutions provider, has launched the Maxwell Hotspot solution, a unique communications system for public facilities requiring voucher or token-based WiFi Internet access for guests. The system is quick and easy to deploy anywhere in South Africa and is independent of terrestrial telecommunications infrastructure.
The Maxwell Hotspot provides Internet access via a WiFi router installed at a single point within the facility. A VSAT terminal ensures a highly reliable connection with up to 512kbps upload and 4 096kbps download speeds. The system also offers customers new income-generating opportunities. There are no monthly subscription fees or fixed monthly operational charges; the facility simply generates vouchers to resell to its customers.
These are issued in 30-minute or one-hour access denominations. Two types are available: fixed- time vouchers, which provide uncapped access to the Internet from time of issue, and multiple login vouchers, which offer uncapped access across many logins until the total time is used. An integral part of the system is the self-help service portal where the system administrator can generate vouchers as single units or batches, or view the current status of issued vouchers.
The equipment required includes a complete VSAT system. The system can be bought or rented from Maxwell. Prices are available on application.