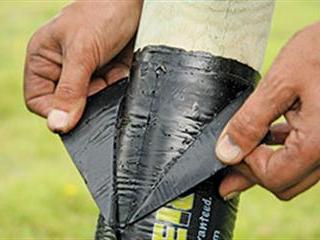 An innovative protection sleeve significantly extends the life of wooden poles and posts – even treated ones – by preventing or retarding ground line rot, decay and termite attack. Developed in the UK and now being released in South Africa, the sleeve will help to significantly slow down the rotting of wood poles, in damp or wet soil.
Problem
Wooden poles remain an important element in electrical distribution. Although the power and telecom sectors are undergoing many changes, with cutting edge "Smart Grid" technology being an example, the network remains a collection of cables, insulators, transformers, switches and poles. As shown so clearly after the storms in the USA, the best technology could not remain operational when thousands of wooden utility poles broke at ground level under load.
A wooden pole is cost-effective, readily available, sustainably produced and environmentally friendly. But as decay organisms over time attack its vulnerable part just below ground level, the pole inevitably rots and weakens. Although wood preservatives have been developed over the years, many of these have only limited effectiveness.
Polesaver to the rescue
The UK-based company Polesaver manufactures a range of innovative and patented products to upgrade the performance of wooden poles into the 21st century. For over 30 years, the company has been developing products and processes for the timber protection, construction and safety sectors. Its mainstay is the Polesaver and Postsaver ground line sleeves that help to prevent rot at ground level to extend the life of the pole dramatically.
A global network of agents and distributors support its operations in Gloucestershire and Yorkshire, supplying Polesaver and Postsaver sleeves worldwide and giving on-site support and advice. The most popular sizes are 100mm and 125mm diameter, sold in packs of 10. The 100mm size is priced at R175 per pack and the 125mm size at R200 per pack.
Discounts may be negotiated on bulk orders.