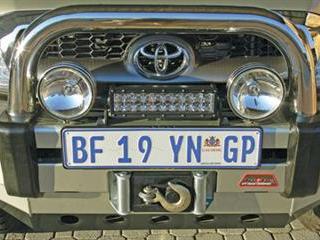 Impending climate change and the need to conserve resources have many positive effects on technology and the way we do things. A new range of professional quality heavy-duty outdoor LED lamps from a company called Road Rage, just released on the South African market, is a case in point.
Running on 12VDC, this range consists of multiples of four LED units, from four to 100 LEDs, with light output ranging from 1 400 lumen to a staggering 18 000 lumen. Using very little power for an extremely high light output and almost no heat per unit of electricity consumed, the LEDs have a rated 50 000 hour lifespan, equivalent to burning continuously for five years.
Reflectors with an optical efficiency of 94% are available in either spot, flood or a combination of the two configurations. Engineered for extreme outdoor use, the external housing is practically indestructible with a durable, UV-resistant matt black finish. Sturdy angle-adjustable bracket mounting points are integral with the housing.
The optically clear lens is manufactured from Lexan, an unbreakable polycarbonate resin used, among others, for riot shields. All electrical connections are sealed and waterproof. The lights have been tested to the highest standards according to CE and Röhs certification for high and low temperature extremes, temperature change shock, UV resistance, salt resistance, fogging, sand, dust and dirt ingress and air pressure change.Prices include VAT and range from R995 for the 4 LED lamp and R4 895 for the 20 LED lamp to around R18 000 for the 100 LED lamp.
Contact WR Offroad Industries on 012 807 4566 , email [email protected] or visit www.wroffroad.co.za