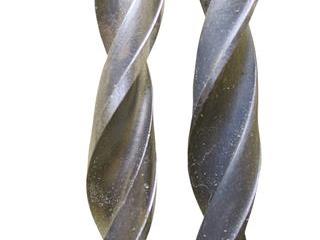 Farmers, artisans and hobbyists who often have to drill precision holes in steel, non-ferrous metals, plastic, or wood no longer need a selection of single-purpose drill bits in their toolboxes.
The Bullet Pilot Point drill bit is a remarkable improvement in drill bit design, incorporating a pilot hole bit and a final bit in one. It's made of super high speed steel in jobber length with a right-hand spiral, three flats on the shank, and a parabolic flute.
The bit incorporates a pilot point that centres the bit on the material to be drilled, minimising wandering and doing away with the need for a centre punch.
It drills four times faster than a normal point drill bit does, smoothly, precisely and without burrs, requiring only half the force of a normal point drill bit. Break-through is equally smooth, with no binding or lock-up.
What is more, the same bit can be used for steel, non-ferrous metal, wood, plastic, or composites. The bits are available, singly and in different sized sets, from selected tool and hardware outlets nationwide.
Prices are naturally somewhat higher than those of normal point drill bits.