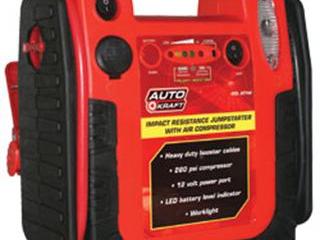 Autokraft's new portable rechargeable jumpstarter starts a motor vehicle with a flat battery quickly and easily. What's more, a built-in 260 psi air compressor will also inflate flat tyres. The unit comes complete with heavy-duty booster cables, a 12VDC power port and a work light. An accumulator in its own right, it operates without external battery power. Once charged it can also be used as an independent portable 12V DC power unit, LED work light and air compressor.
It can be charged from either a vehicle's battery or via a cigarette lighter socket or Bradford Harrison socket, or from A220VAC from a mains outlet. The charge is accumulated in a built-in 17A/h sealed lead-acid battery designed for multiple charges. The compete unit weighs 6,7kg. It is available at AutoZone outlets countrywide at a recommended retail price of R750 (incl VAT).
For more information, or to locate the nearest store contact AutoZone on 086 11 22 111, visit www.autozone.co.za or email [email protected].