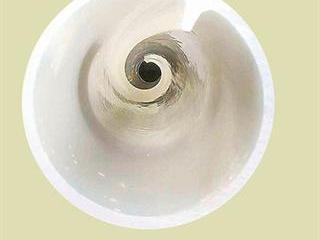 An efficient feeding technology is crucial in any modern pig production system. In a complex-piped feed distribution system, the composition of the liquid feed must remain homogeneous and individual feed constituents must not separate from one another. In the de-mixing and sedimentation situation, a large computer-controlled liquid feeding unit would suffer a loss of efficiency. This is because the feed mix, originally homogeneous in terms of individual components – water and feed – reaches the feed valves, blocks the nozzles and cannot be properly apportioned to individual animals.
In this way, sedimentation slows down the feed flow. In the worst case, it can block the feed line. The pigs will thus receive feed rations that differ significantly in quality and amount from one another so they cannot grow homogeneously. A decade ago, Weda Dammann and Westerkamp developed a patented Mix-Pipe. The principle was simple, yet the impact – to this day – is great.
A continuous spiral profile inside the conveying pipe allows the feed mix to move through the pipe in a rotary motion. The result is that solid particles remain in homogeneous suspension: the feed constituency remains consistent and animals receive individually planned amounts of feed. Weda's managing director, Franz-Josef Sextro, received the DLG gold medal for this innovation.
"Our Mix-Pipe is well-received by our customers and it is even installed into the units of our competitors," says WEDA's development manager, Ralf Meyer. "The potential for optimisation in various houses remains, as components are frequently integrated into the feed lines in certain intervals." While flowing, feed stays permanently mixed and dosing liquid feed containing physically similar dry substances is guaranteed at each valve.
The Mix-Pipe is available in diameters of 63mm, 50mm, 40mm or 32mm, suitable for pig production units of almost any size.