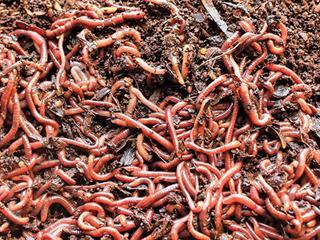 Earthworms are well known to play a key role in nutrient cycling in ecosystems. An earthworm digests relatively raw organic material using the stimulation of soil micro-organism activity in organic matter and soil particles as the material passes through its intestine. This process turns the waste, called castings or vermicast, into a source of highly plant-available carbon and nitrogen.
Vermicast has a dramatic effect on plant growth and crop yield. In field and laboratory studies, agriculturalists and scientists have shown quality vermicast (biohumus) to be the best long-term natural soil fertility-enhancing product available.
An organic fertiliser, it is widely used in natural soil mixes. Research has shown that using it in plant production systems can significantly increase yield and suppress diseases.The Gauteng-based company, Earthworm Organic Mediums, has invested heavily in vermiculture production infrastructure. It operates a state-of-the-art, process-controlled facility in Bapsfontein, using tons of earthworms in a fully organic system to produce a premium soil fertility product. All feedstock is pre-composted to ensure it is free of weed seed and meets the required standards for possible pathogen destruction.
This blended, high- nutritional value product containing vermicast is produced under strict quality-controlled conditions, and is marketed as NutriCast. It is available at a price of R400/m³, excluding VAT.
Email [email protected].