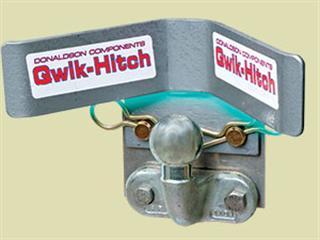 The revolutionary Qwik-Hitch device makes single-handedly hitching a caravan, boat or trailer to the towing vehicle a pleasure. It is simple to use, quickly fitting onto the vehicle's tow ball mount plate to protect the car from a dented tailgate or crushed bumper when misjudging the distance and direction.
Install the two supplied guide studs semi-permanently onto the tow ball mounting plate. Then, each time you hitch up, slip the device onto the studs. Adjust the height, reverse the car and let the device do the rest. The coupling successfully completed, slide the Quick-Hitch off the guide bolts, stow it and be on your way!
Instructions
Fit the two supplied studs as described above.

Fit the Qwik-Hitch onto and over the two studs and slip the two locking pins into the holes of the studs to retain it in position.

Park the towing vehicle with its tow ball 3m away from the hitch, preferably on level ground.

Join the two sections of the white measuring pole. Stand the measuring pole upright alongside the tow ball. Ensuring that the measuring pole is vertical, slide the rubber grommet to the height of the top of the tow ball.

Place the measuring pole with the pre-adjusted grommet height next to the hitch and adjust the height of the hitch cup to 20mm above the measured height of the tow ball by raising or lowering the jockey wheel.

Stick one of the pointer decals onto the centre of the towing car's rear window, point facing upwards.

Repeat with the other supplied decal onto the centre so that you can simultaneously see both in the rear-view mirror.

Lining up the two points of the decals in the mirror, slowly reverse to accurately back-up onto the hitch until you feel engagement with the Qwik-Hitch. Wind the jockey wheel down to engage the hitch cup over the tow ball. Remove the two locking pins and the Qwik-Hitch, stow away for next time, connect the brake, indicator or tail light cable and go.
The device comes with all accessories. The price of R265, directly from the manufacturer, includes VAT and postage.