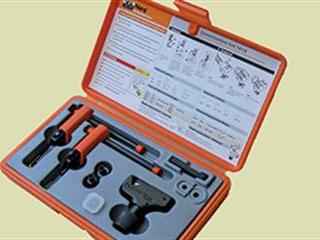 This ingenious thread repair and restoring system, developed and manufactured in Israel, replaces a toolbox full of taps and dies when damaged or rusted machine thread has to be restored or reconditioned in a workshop, at home or out in the field.
Nes Combination Set 1015 is a combination internal and external machine thread repair and reconditioning system with interchangeable cutting blades.
Two tools for internal thread are quickly adjustable from 8mm to 12mm and 12mm to 16mm respectively, the external thread tool handles any thread on 4mm to 18mm diameter. The tools can be used on any thread – inches, metric, left or right hand, fine or coarse – and pitch within the range indicated with interchangeable cutting blades in fine or coarse.
A major advantage of the system over a tap is that it enters and engages the thread beyond the first damaged grooves – the damaged section is often where the thread starts – and works outwards to where the thread is damaged. The blades are made of hardened cutting tool steel (62/58 RC Int/Ext). They run in and are guided by the existing undamaged thread grooves to regroove the damaged section, and require no measuring.
Hand pressure is sufficient with Nes. Never use tools to tighten the knobs or handles. Do not attach an extension rod. Apply good quality cutting oil to the blades when working.
Nes Combination Set 1015 range:
External M4 – M18 (5⁄32" – 11⁄16").
Internal M8 – M16 (5⁄16" – 5⁄8").
This system is invaluable and is especially useful in small to medium automotive, farm and industrial workshops, as well as for implement repair and maintenance on the lands. It is available in selected machine and tool shops countrywide at a retail price of around R2 689.