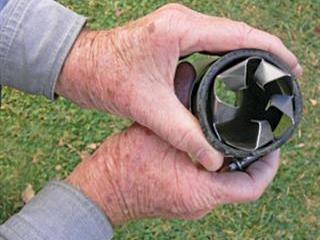 Devices that claim to 'improve fuel consumption by X%' are a dime a dozen. Few of such claims are backed up by scientifically verifiable data conducted under controlled and repeatable conditions by credible independent organisations. Yet some devices, like the locally manufactured Cyclone are worth a second look. Available in versions for four-cylinder, six-cylinder and eight-cylinder petrol engines, it is a rectangular strip of stainless steel sheet with cut out and bent angular vanes.
The strip is bent into a semi-circle and, when inserted into the air intake tube between the air cleaner and the carburettor or fuel injection air inlet, grips the inside of the tube under its own springiness. All it takes with most vehicles is a screwdriver and five minutes. The inwardly projecting vanes, set at an angle into the incoming air stream, are claimed to impart a swirling vortex-like movement to the air stream to improve the atomisation of the fuel.
More completely atomised fuel in the fuel-air mixture burns cleanly and completely for greater efficiency, better fuel consumption, more power and lower air pollution. Checking how well it works would in essence be as simple as repeatedly measuring the fuel consumption on regular runs over a set long distance, then fitting the Cyclone and repeating the tests.
Obviously speed, wind and temperature must vary as little as possible and the test should ideally be repeated several times. That said, I bought a Cyclone with the understanding that I would test it on my vehicle, publish the results, and return it for a refund if it did not perform as claimed. The proprietor willingly agreed. Watch this space. The price is R299, slightly more than the average half tank of petrol.
The Cyclone is available from Corrie Myburgh, phone 072 434 8059, email [email protected].