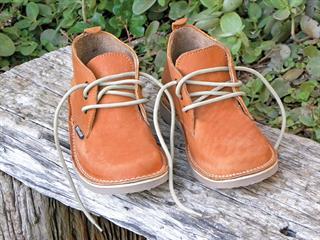 Handcrafted in Cape Town from full-grain Cape fur seal leather exclusively for Trappers branches countrywide, these ankle-length boots are heavy, strong and sturdy. For this boot, Freestyle used carefully selected tanned leather from the skin of bull seals, culled sustainably in Namibia.
The design and workmanship of these boots are exemplary. The boot consists of an upper made of two panels of full grain seal leather double-stitched together and then stitched onto a leather insole and midsole. The latter is bonded onto a tough non-slip synthetic thermoplastic rubber crepe sole for an extremely strong, heat-resistant bond.
The inside of the boot is lined with durable yet flexible pigskin, bonded and then stitched to the outer along the edges. The inner sole/sock is 3mm latex rubber that cushions the foot against shock. The final product is a well-made, comfortable boot that should take everything thrown at it in its stride.
Taking care of the boots
Freestyle supplies detailed instructions for use and care with every pair sold. As leather is a natural material, caring for the boots properly includes occasionally applying a good polish or cream, keeping them clean and dry when not in use, and storing them in a cool, dry and ventilated place. I prefer treating my leather shoes and boots with neatsfoot oil, but will treat this pair as advised by Freestyle.
A small point of criticism, which can be proved or disproved only through extended use, is the type of eyelet used. It is a one-piece anodised soft brass ring, fitted through the eyelet hole from the outside and star-crimped around the rim of the hole on the inside by means of crimping pliers. Should the leather stretch ever so slightly with use, some of the wings of the star may either lose their grip or break off, as has been my experience with some other velskoene in the past. A two-piece eyelet, as used on legendary Courtney footwear, might have been a better option.
The Freestyle Union Sealskin Boot is stocked by Trappers branches for about R800 (incl. VAT).
Email [email protected]. Visit www.freestylesa.co.za.