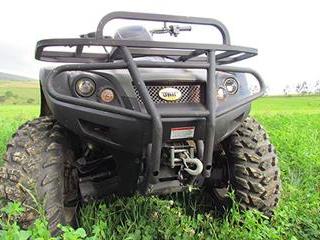 Formally released at a 4×4 show in Pretoria on 5 and 6 April, the Batt 80 4×4 is claimed to be the first-ever diesel-powered utility quad in South Africa. Designed and built from the ground up as a working machine, it is safe, easy to drive, comfortable and enjoyable, with a wide range of accessories for a variety of farming tasks.
Specifications
Engine The powerplant is an EPA-approved, diesel, V-twin, air-cooled Winsun 840cm³. It has glow plugs, forced and splash lubrication, an external oil cooler and spin-on oil filter. It has a 12kW output at 3 600r/ min and produces 41Nm of torque.

Fuel system

Fuel is 500ppm diesel with a self-bleeding fuel system, external electric fuel lift pump, fuel filter and Bosch injectors. Fuel consumption is up to 20km/l, with a tank capacity of 19l.

Drive train

The Batt 80 4×4 has automated transmission with engine compression braking and a heavy duty torque converter H, L, N, P, R gear selection. It is a four-wheel drive system with a fully independent dual A-arm suspension.

The final drive is 2WD and 4WD, and the front differential lock can be electrically operated on the move to improve traction on demanding terrain.

Electrical system

The battery is a 12VDC, 47Ah with an electric start.

Braking

The machine has three hydraulically operated callipers and disc brakes – one on the rear final drive and two fitted to the front wheels. The handlebar-mounted brake lever (right hand) operates the front brakes and a foot-operated brake pedal activates all three callipers. There are two independent brake circuits.

The transmission has a parking position to lock the transmission for extended parking, while the handlebar-mounted brake lever is fitted with a locking system for short-term parking.
Wheels and tyres
Front: Batt A043/A033 26*9.00-12. Rear: Batt A043/A033 26*11.00-12. Wheelbase: 1 370mm. Wheels: 25" alloy. Seat height: 900mm. Vehicle dimensions: (LxWxH) 2 208mm x 1 250mm x 1 200mm.

Instruments
The Batt 80 4×4 has side-lights, high and low main beams, indicators, hazard warnings, a tail and number-plate light, and an instrument panel.
The price is R110 000, including VAT, which includes a standard 12-month warranty.
Farmer's Weekly has requested a vehicle to test and will report back in due course.