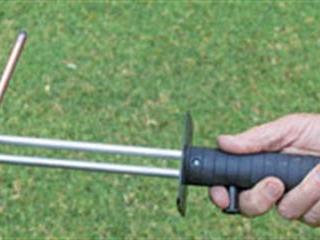 The Electroflame is a South African developed, patented and manufactured carbon arc torch that doubles the usefulness of an AC arc welder. Simply connect its two 3m cables to the terminals of a conventional arc welder on the 40A to 60A setting to produce a fingertip-controlled flame of variable intensity and temperature (small intense brazing flame to large, soft, heating flame) without the need for expensive and dangerous acetylene and oxygen gas.
An electrical discharge between the two carbon electrode rods produces the flame, regulated by a sliding button controlling the spacing between the electrodes. The Electroflame enables you to braze or silver solder brass, copper, stainless steel, cast iron and aluminium. The intense directed flame heats metal to forge it or to produce sharp bends in 50mm x 5mm flat or 12mm square bar, bending it by hand without hammering.
It brazes or silver solders sheet metal (down to the thickness of an aluminium cooldrink tin) without burning a hole in it. Due to its relatively low current consumption, it is ideal for use at roadside repairs using a light arc welder powered by the vehicle's 12V battery through a suitable inverter. The replaceable carbon electrode is affordable, adjustable according to wear, and will provide about two hours of work depending on the current used as measured in amp.
The Electroflame comes with detailed, easy-to-follow instructions and a list of recommended filler rods and fluxes. It carries a 12-month warranty against defects in materials and workmanship. The price is R800 including three carbon electrodes, each of which is broken in half to form a set. Replacement electrodes are priced at R20 each.
Contact Leon Myburgh on 079 760 5117 or (temporarily) email [email protected]