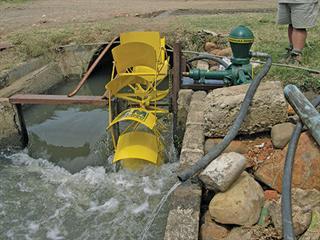 Jo Haden Smith, a retired paper merchant farming part-time near Dullstroom in Mpumalanga, faced the problem of pumping water from a small furrow against a 50m head over a distance of 500m. Two broken-down, Chinese-made 3kW petrol-powered pumps later, he started looking for alternatives.
In 2007, after searching on the Internet, he imported two waterwheel pumps from ZM Bombas in Brazil for evaluation. The success of these led to enquiries from neighbouring farmers, and Jo imported more. Today, this pump remains the mainstay of his company's product range, with more than 300 units operating in South Africa, as well as in the DRC, Mozambique, Zambia and Angola.
Once installed, and depending on the model, the nature of the water source and the topography, it will pump water at 2 500l/ day to 100 000l/ day, day after day, with negligible maintenance and no fuel of other costs. The purchase price ranges from R12 500 to R45 000, excluding VAT. A farmer can install the pump with guidelines supplied by Jo, basic hand tools, simple material from the co-op, and a limited amount of labour.