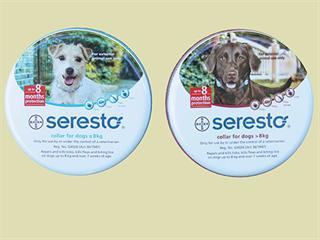 Seresto, the new collar from Bayer Animal Health, protects dogs and cats from ticks and fleas for up to eight months. It is the latest in a line of anti-parasite products from this animal health company. The collar is the first new treatment in more than 10 years to offer combined tick and flea protection for cats as well as dogs, and as the first product to repel ticks on both. This reduces the risk of vector-borne disease transmission from these parasites.
Seresto represents a major advance in the development of anti-parasitic treatments, the first single-application product to offer such extended protection. By integrating two proven active ingredients – imidacloprid and flumethrin – in a unique polymer matrix, Seresto slowly releases controlled amounts of these ingredients to ensure that the animal always receives the right dose for optimal protection.
The collar is designed in such a way that the necessary levels of active ingredient are maintained in the fatty layer of the dog or cat's skin. Combining the two active ingredients has been proven to be highly effective against ticks and fleas – laboratory trials confirm that the combination of imidacloprid and flumethrin is up to 100 times more effective against fleas than imidacloprid alone. Seresto is available from a veterinarian in various sizes for cats and dogs.
It is only for use by, or under supervision of, a person registered in terms of or authorised in terms of Section 23 (1) of the Veterinary and Para-Veterinary Professions Act, 1982 (Act 19 of 1982). The Seresto collars are priced as follows:
Dog above 8kg – R506,85

Dog below 8kg – R331,75

Cat – R298,75
(Prices include VAT.)