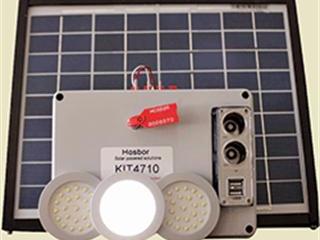 The characteristics and uses of photovoltaic electricity (electricity generated from the sun) are still widely misunderstood.
It is a common misconception to compare it with the mass electricity available from the national electricity grid, but solar-generated power is neither economical nor practical for household appliances or any other use with a high power requirement.
However, it does have its place, and the Gauteng-based H. Osborne Services (Hosbor)manufactures and trades in affordable photovoltaic lighting systems applicable to African conditions. The solar powered LED light KIT 4710 is such a system, designed for a small two-room dwelling, guard house or stock post. Installation is simple and straightforward and needs only basic skills and hand tools.
Features include: A 12VDC 7Ah sealed lead-acid battery which, when fully charged, will power three 12VDC 1,5 W 24-LED lights for more than 15 hours, equivalent to two to four nights of normal use. The 10W monocrystalline photovoltaic panel will charge the battery in a day. Outputs are protected by resettable PTC fuses. Two 12VDC 100mA lighter sockets for cellphone
charging and two Type A 5VDC 100mA USB charging ports expand the system's versatility.
Quick connecting push-in wire terminals simplify installation. The light circuit is automatically disabled in daylight and automatically comes on at night. Sufficient wire for a normal installation. The solar powered LED light KIT 4710 is available directly from Hosbor at a price of R1 600 (incl VAT).