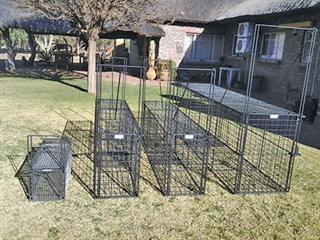 Bloemhof-based entrepreneur Antoon Roets of Tophokke has designed and is manufacturing three models of live traps for problem animals of various sizes, up to a leopard, cheetah, brown hyena and bush pig. Tophok trap cages are designed and built for a lifetime of service. A patented release and locking mechanism ensures that the trapped animal does not injure itself or escape. Furthermore, non-target animals can be released unharmed, or translocated to another area as nature conservation authorities require.
The caracal cage, measuring 1,8m x 0,4m x  0,6m, has two doors that simultaneously close and lock as soon as the treadle plate inside is depressed. Its externally situated mechanism, beyond reach of the captured animal inside, operates on gravity without cables or springs to rust. It also has an inner door that can be closed along with one of the outer doors to house live bait such as a chicken. The caracal enters through the other outer door and is caught. The leopard cage measures 2,4m x 0,6m x 0,8m.
As a trapped leopard is short of humour, the design is suitably robust. It has only one trapdoor, which closes when the treadle plate is depressed. An inner door accommodates live or dead bait. Two cages can be linked together to form a long tunnel trap with two entrances and the bait enclosure. Some leopards and cheetahs will only enter a long walk-through trap cage.
The Tophok has been approved by nature conservation authorities, also in terms of safety for the user and animal. The suggested density is one per 250ha, depending on several factors. Each trap is supplied with detailed instructions. The caracal trap cage costs R4 000 and the leopard trap cage R7 000, excluding VAT.
Phone Antoon Roets on 083 320 2083.