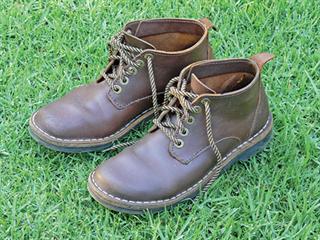 The Full Grain Veldskoen is an unpretentious, multi-purpose ankle-length leather boot with a leather insole and thermo rubber soles. The boot is from Groundcover, a specialist quality handcrafted leather company based near Curry's Post in KZN. Built on an FS rounded toe last, it closely approaches 'all-round' footwear. The attractive tan colour leather was a bit conspicuous for my conservative taste, so I brushed several coats of neatsfoot oil onto and into the uppers and insole for a rich, deep chocolate colour, and added suppleness.
The leather insoles, a natural waterproof but breathable product, are far more durable than any synthetic material. The upper three full-grain leather panels are stitched together with rot-resistant polyester M20 thread and reinforced with a fourth panel at the heel. The upper is stitched down to the sole with the material flanged out. The insole is glued to it and stitched through the insole and the upper with 1,2mm braided polyester thread.
Ten swaged eyelets with broad rims allow the boots to be laced up securely. But the laces have to be properly loosened before slipping feet in or out. The sole, mid- and insole combination balances flexibility and suppleness with support and strength. Grip is good on wet and dry surfaces. Above all, these shoes are superbly comfortable, yet elegant enough for smart casual wear.
They are available in sizes six to 13, including half sizes, and are priced at R415. As my 80kg bodyweight on size six shoes gives a high footprint pressure, I am the perfect footwear test bed. So, if still around in 10 or 15 years, I will give feedback on their long-term performance and durability. Watch this space…
This article was originally published in the 25 October 2013 issue of Farmer's Weekly.