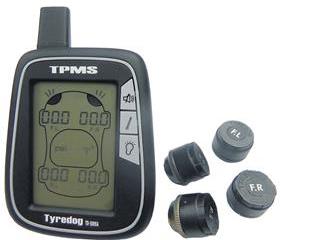 Tyre pressure is often overlooked when it comes to road safety. As little as a 5 psi difference can mean a drastic increase in tyre temperature, fuel consumption and tyre and engine wear, not to mention the increased risk of a blowout at high speed.Differences in the pressure of the two tyres on an axle can seriously affect handling, steering, braking, comfort, traction and safety.
Tyredog manufactures a complete range of wireless tyre pressure and temperature (WTPM) monitoring systems to suit two wheels to 26 wheels, including motorcycles, cars, bakkies, trucks, buses, trailers and caravans, as well as combinations of the above. The Tyredog pressure system is completely wireless (battery powered) and consists of sensors and a central display monitor. Each wheel carries a sensor that accurately measures the tyre's pressure and temperature.
The sensors are external and weigh only 10g each, and no technical background or experience is needed as they simply screw onto the tyre valve stem.Each kit comes with a set of SecureFit rings to keep the sensors in place if you're worried about someone wanting them more than you do.
Tyredog features
The Tyredog monitor, which displays the information on an LCD screen, mounts on the dashboard or windscreen using a suction-cup bracket. All tyre pressures are simultaneously displayed in their respective locations. Apart from checking the spare tyre (on the TD-1300A-X5 model only), you never need to press any button to check the tyres.
The system is shockproof, waterproof and dustproof – and foolproof. Alarms can be set to warn when a tyre is running low, over-inflated, or too hot. Pressure can be displayed in psi, kPa, bar or kilogram per square centimetre, and temperature in Centigrade or Fahrenheit.
The estimated battery life is around a year, depending on use. Prices (excl VAT) range from R1 831 for the four-piece TD-1000A-X to R5 500 for the 10-piece TD-2000A-X with relay systems. Larger systems (up to 26-piece with relay) are also available.