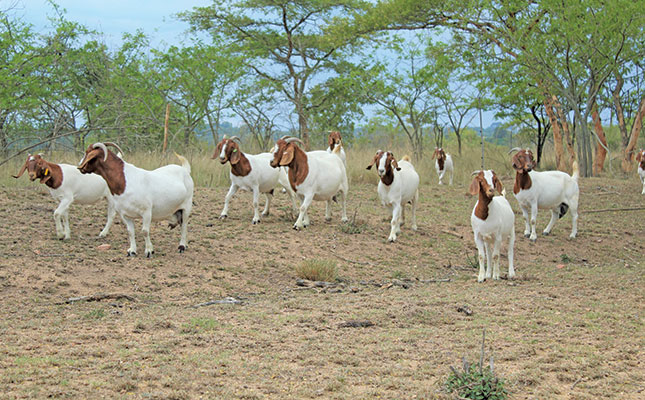 André and Brenda Swanepoel's 9ha smallholding on the outskirts of Mbombela in Mpumalanga is the ideal home for their Boer goat meat production enterprise: it is sufficiently large for their flock and perfectly placed to service the demand for goat meat in the area.
One drawback is the subtropical climate, which results in high pest loads. Nonetheless, the couple has found that with careful management, they can maintain a healthy flock, and today have an efficient commercial operation with excellent growth prospects.
From a hobby to a business
Brenda launched the goat flock in 2016 with André's help. Named Meraki Goats, the enterprise was essentially a hobby that sprang out of Brenda's love for animals.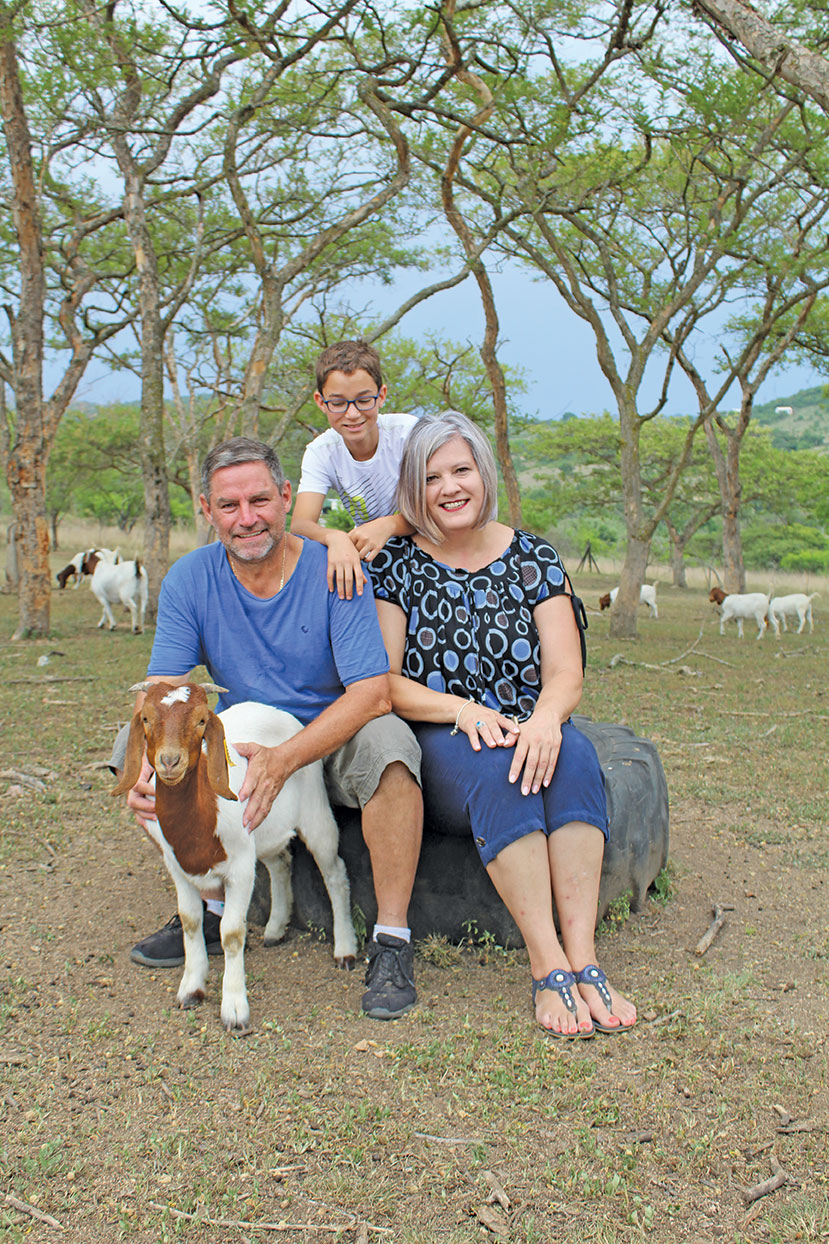 At the time, André was working in the steel industry. In April 2018, however, he was retrenched and since then has increasingly taken over the day-to-day running of the flock.
This has helped him and Brenda focus on growing the operation.
Brenda started with just four ewes and one ram, Aero, and the flock has since grown to 32 ewes. The Swanepoels understand the importance of good genetics: Brenda has purchased most of her Boer goats from Doornpoort Genetics, and in April last year bought the ram Laksman from renowned Boer goat breeder Lukas Burger of Griekwastad.
She and André also attend regular study groups, to which they credit much of their knowledge about raising the breed.
But nothing beats keeping a watchful eye on the animals, stresses André.
"They keep me busy! I walk many kilometres every day. We have to watch them and keep a lookout for any parasite infestations. They also love climbing trees and have got stuck from time to time, so I've had to help them down."
The Swanepoels plan to convert their commercial flock to a stud to get better returns.
"We're limited in how big we can grow, so it'll be better to farm intensively and breed improved genetics as a stud than farm commercial goats," says Brenda.
Selection and breeding
Even at the commercial level, the Swanepoels make the effort to practise strict selection.
"The build, colour and teats must be correct on the ewes," explains André.
"Because our goats are farmed for meat, we select for as long a body as possible and with good depth. We look for a ratio of 60% body to 40% legs.
"The brown colouring must not appear beyond the shoulders. If there are any brown patches, they can't be larger than a R5 coin.
"For the ewes, we look for two or four teats. Four is better, as the ewe can feed triplets, if required. A common defect is the fishtail teat, where the tip of one teat splits in two."
They select rams for a Roman crown (a round profile from the nose over the head), a substantial gap between the horns and skull, and a good build.
"In addition, the slit in the testicles must not be more than one centimetre long and the ram's mother's teats must be good."
Brenda notes that the perfect ram is yet to be born, but this is what stud breeders continually strive for.
"One or another characteristic always needs improving. Aero, for example, is a beautiful ram, but his colouring goes past his shoulders. Yet he gives us beautiful kids, many of which become stud animals, even though he isn't a stud ram himself.
"It takes time to breed good genetics and breed the bad characteristics out. We were lucky to start with good genes. Although our ewes weren't stud animals, they came from very good bloodlines, so we've saved time in breeding good animals."
Stud breeding demands strict selection criteria. Brenda says that while a farmer might have animals that do not make the stud grade, there might be potential to produce a stud animal.
"It's trial and error; you place the ewe with the ram and see what's produced. It's a long process because you have to wait a whole production cycle to see if your recipe worked."
Last year, Meraki Goats produced 24 kids from nine ewes.
"Our average long-term lambing rate is 130% and, so far, all of our ewes have lambed every year."
The ewes are placed with the rams when they are one year old, or 40kg in weight. Meticulous management is required to improve genetics. Each goat is tagged with its own number and matched with a ram during breeding season. It's important that father and daughter are not mated, as this results in smaller kids, which then get progressively smaller.
The Swanepoels split the breeding season into two during the year, with the first group lambing in February and the second in August.
"The ewes are on heat every 21 days and the gestation period is five months, but I let my ewes lamb only once a year. Having two lambing seasons makes it easier to manage," says Brenda.
Gestation and kidding
The couple make sure to treat for internal parasites during gestation, as these can cause anaemia in ewes and growth problems in lambs.
They feed the ewes Barnlab Advanced Balancer at kidding, as it aids milk production. They also ensure that the kids get as much colostrum as possible to ensure that they receive the ewes' immunity and get off to a healthy start.
The lambing season is joyful, but strenuous, says Brenda.
"We stay with the ewes, especially the new mothers, in case they need assistance. On lambing, the ewe gets a Terramycin antibiotic injection and the kid's umbilical cord is sprayed with Terramycin to prevent infection. We also dry the kids or they could get too cold and die."
Feed and nutrition
During the day, the flock grazes on Eragrostis spp, the supply of which is more than sufficient throughout the year. When they started farming, explains André, they "slashed everything in the veld" to remove potentially harmful shrubs such as Lantana camara, which is toxic if consumed in quantity. Avocado tree leaves are also toxic for goats.
"The goats eat any shoots that start growing, so they control the Lantana, while the small amount they ingest isn't harmful. Goats prefer leaves and will only turn to grass when there are no more leaves to eat, so it's important to ensure that the grazing is healthy and nutritious.
"At night, we place the animals in the kraal where they receive additional feed, although this is more to lure them there. It's not really needed.
"In winter, however, we give them additional lucerne, maize crush, and Feed Doctor, a fine natural powder mined in Namibia. It's highly nutritious and aids in resistance against worms."
Pests
The Lowveld's warm, wet climate favours parasites, and hairworm, tapeworm, roundworm, liver fluke and wireworm pose a particular problem.
"These are especially present during the wet season, and we have to dip the goats every two weeks," says André.
Symptoms include the pink part of the eyes turning pale, and hairworm results in a bag under the chin.
"Heartwater is also a problem, so we apply Drastic Deadline, a pour-on dip. If we keep the goats free of ticks, they don't get heartwater, but this means checking the animals daily. Parasites are our biggest challenge; we lost two stud ewes by being one day too late in reacting to a parasite infestation. Goats have a high pain threshold, but die very quickly."
André admits that their medicine bill is higher than that of Boer goat farmers on the Highveld, for example, but because of the high local demand for goat meat, it is worthwhile. And converting to a stud will increase profits even more.
To market
According to André, orders for goat meat often surpass what Lowveld goat farmers can supply.
The goats are sent to the local abattoir when they reach a weight of between 40kg and 45kg.
"There's a demand for live goats for ceremonial purposes, but we focus on the meat market. We get orders for whole carcasses, so all we need to do is take the goats to the abattoir in Mbombela. We've had orders for the export market, but there's a lot of red tape involved. We sell by word of mouth, and have never had to advertise."
From time to time, the Swanepoels sell animals on auction, as they receive a better price.
"If we have enough volume and good genetics, then we'd rather sell the animals at an auction where they are used for further breeding rather than letting the good genetics go to waste," says André.
Although he never saw himself as a goat farmer and the operation was more his wife's undertaking, André admits that the challenging nature of breeding the perfect animal has intrigued him.
"I'm excited about seeing what we produce next. My goal is to breed a champion ram."
Email Brenda Swanepoel at [email protected].