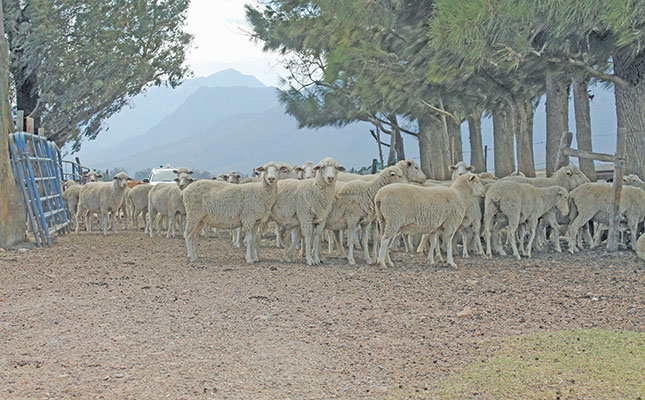 "Over five decades ago, my late father-in-law, Japie Patience, started farming 10 Ile de France sheep on a 95ha piece of rented commonage land in Saron, near Porterville. He also had a few calves that he bought from dairy farmers in the area," recalls Therecia Patience.
She took over the farm in 1989. "At that stage, I was a housewife, while my husband worked as a teacher. I was the only one who had time to attend to the farm."
Her son Gary, an agricultural engineer, officially joined her in 2017. However, he had been involved in the family's farming operation from a young age and regularly assisted his mother in some of the farming decisions.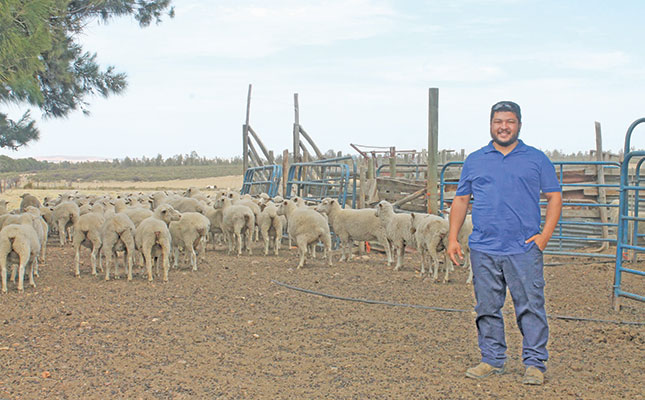 "Although I wanted to farm after finishing high school, my father advised me to study towards a tertiary qualification so that I'd have something to fall back on should farming not work out," he says.
From the start, the family steadily expanded their livestock component. By 2002, however, they had reached the maximum carrying capacity of the farm.
"We couldn't expand horizontally anymore, so we started to shift our focus from quantity to quality," explains Therecia.
A single breed
At that stage, they owned a variety of sheep breeds, ranging from the Ile de France to the Dorper. Determined to improve production, they realised they had to focus their attention on one breed.
"We looked at which would fit best in our area, as well as which breed's input costs were the lowest. Based on our findings, we decided on the dual-purpose Dohne Merino breed," says Therecia.
Today, their sheep component comprises 250 breeding ewes and 16 rams.
In 2002, they started investing in better, more expensive rams to improve the quality of their flock, buying them from various breeders in the Swartland. This has significantly improved the quality of wool produced by their flock.
"As we improved our rams, our average fibre diameter dropped from 22 microns to 19 microns," says Gary.
Another indication that their decision to improve their flock was paying off became apparent during the 2019 Beaufort West Agricultural Show.
"We were blessed with good results at the show. We won the Young Ewe (crossbreed) competition and came third in the Slaughter Lamb competition."
In 2019, Therecia and Gary also began to invest in better cattle genetics by purchasing purebred Red Angus cows and a stud bull.
"For a long time, we'd had a mixed beef herd as we weren't able to afford good-quality
bulls," explains Therecia.
"Then last year, we sold 30% of our cattle and invested in 14 purebred Red Angus cows and a stud bull."
Their herd currently comprises 110 breeding cows and four stud bulls.
Record-keeping 
As part of their drive to improve the quality of their animals, Therecia and Gary began keeping records of all key parameters.
"We started measuring everything on the farm, from the weight of our livestock at different stages of their life cycles to the rainfall. And as we began to adopt a more fact-based approach, we started making better decisions," says Gary.
He adds that proper record-keeping has also enabled them to make more informed financial decisions.
"We try to keep our input costs as low as possible and follow a strict budget. There's no room for big mistakes, and thanks to good record-keeping, we know what's happening on the farm and with our animals."
To faciliate the process, they attach colour-coded ear tags to all lambs indicating the year of birth.
"We cull unproductive animals to keep our input costs as low as possible. Record-keeping helps us identify which animals should be kept as replacements and which should be sold."
Challenges 
According to Gary, farmers on communal land face many problems due to their situation.
"Because we farm on commonage, we're not allowed to put up any infrastructure. This makes it difficult to store feed and implements."
They did, nevertheless, put up a shed to store a few implements and some feed, but have had to deal with so many break-ins and so much vandalism that they cannot keep up with repairs.
Gary highlights stock theft as another major problem. In one month, they lost more than 20 sheep to thieves.
"Predators are also a big problem and stray dogs are even worse," says Therecia, adding that stray dogs killed 20 of their sheep in just one evening.
To address this problem, they equipped two sheep in the flock with FarmRanger collars.
When there is a disturbance, such as an attempted theft or the arrival of a predator, the entire flock, including the animals with collars, tend to panic and run. This movement is sensed by the collar, which then sets off an alarm on Gary's cell phone.
"Theft has diminished to some extent, thanks to the collars. We even caught a thief in the act," says Therecia.
Their long-term goal for the business is to acquire more land.
"Unfortunately, we can't expand our livestock component any further with the amount of land we have at our disposal," says Gary. "I've applied for government assistance several times to get our own piece of land."
So far, they have been unsuccessful, but Gary emphasises that this does not dim his passion for farming; instead, it motivates him to work harder.
Another of their goals is to add more value to their operation.
"Instead of just selling our weaner calves at auction, we would like to slaughter and process 10% of our own meat. The first prize would be if we could do it under our own brand," says Gary.
They are currently looking at ways to pursue this opportunity.
Email Gary Patience at [email protected].