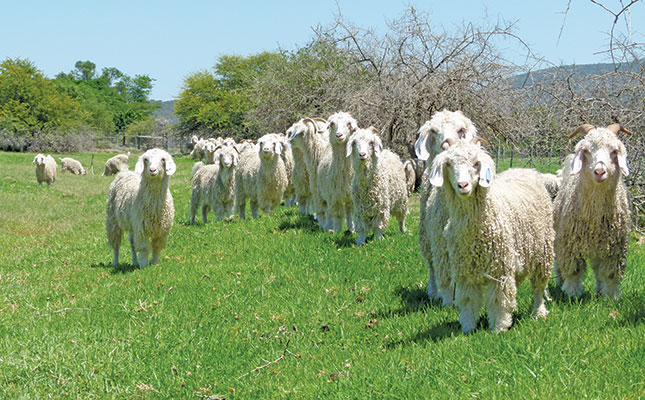 Paul Webber can look back on a memorable 2019 mohair season. He not only achieved the highest price of R621/kg for a bale of 24-micron good-style kid mohair in April, but ended up being awarded the Daidoh Trophy for the highest average price for a summer kid clip.
Having won the same trophy in 2014 and being runner-up in 2015, it is safe to say that Webber is producing some of the most sought-after mohair in South Africa.
Family farm 
Webber runs a mixed livestock operation on his 3 980ha Connaught property near Grahamstown in the Eastern Cape: 700 fertile Angora ewes share resources with 350 Dorper/Meatmaster ewes and 50 Bonsmara-type cows.
He is the seventh generation of his family to live in the Grahamstown region. His late father, Neil, who contracted polio as a child, farmed an 800ha farm, while his uncle, Brian, farmed Connaught from the mid-1960s.
Webber attended Winterberg Agricultural High School in Fort Beaufort, where he matriculated in 1985 before completing two years of military service.
He then returned to Grahamstown and assisted his father for a couple of years before accepting a managerial position on a Western Cape fruit farm.
In 1995, Brian invited him to join him on Connaught, where Angoras had become a central pillar of the farming operation. The two agreed to a 50/50 partnership and farmed successfully together until Brian's death in 2018.
Webber has continued on Connaught and says that his uncle's legacy lives on not only through the Angoras, but also in terms of what he taught him in relation to financial management and animal husbandry.
"He was careful with his money and had a saying that one should never spend more than one earns. He also insisted on not putting stress on animals, and believed that calm animals were more productive."
Webber's Angoras are farmed predominantly in subtropical thicket comprising sweetveld and browsing plants such as spekboom (Portulacaria afra).
Although ideal for goats, the area is virulent heartwater veld and home to several toxic plants, such as wild jasmine (Jasminum angulare).
Ewes that are well adapted to Connaught's conditions exhibit good conformation, weigh between 40kg and 45kg, and produce strong mohair with a fleece weight of about 2kg.
"On this veld, smaller, fine goats don't do well, so I don't want to farm them," says Webber.
"Because my goats are bigger, they may have stronger fleeces, but I score with fleece weight."
According to Webber, the most important selection criteria for a flock of Angoras should always be fertility, as having a greater number of kids, with their fine mohair, increases the overall average fineness of the clip.
"I don't focus on kapaters [wethers]; they're sold at the two-tooth stage. My focus is ewes and kids, and if I have a high kidding rate, I'll have a fine clip regardless of the strength of the mohair I shear from my ewes," he explains.
Having more kids also ensures a broader genetic base from which to select replacement animals.
Breeding 
Webber now produces approximately 300 ram kids a year, which has enabled him to begin selecting his own rams, an advantage as they are well adapted to the area.
"It's difficult to bring animals here successfully," he says. "Goats from elsewhere often die of heartwater disease."
He now keeps up to 10 of his own rams each year for breeding and sells between 20 to 50, depending on demand. In addition, he buys in rams from Ben van der Westhuizen in Adelaide.
Webber uses five rams (a combination of older and younger) per 100 ewes, and his 700 ewes kid in August and September, and wean between 600 and 650 kids, depending on the season. The staff who manage the flocks are incentivised by being paid for every kid that can be shorn at weaning (six months).
There are over 50 camps on Connaught, and eight of these, all with adequate grazing and browsing, are used exclusively for kidding.
"Ewes go into these camps two weeks before kidding actually starts so they can settle," explains Webber.
Maiden ewes that kid for the first time at two years do so on irrigated kikuyu pastures before being transferred to the veld in groups of about 50 when the kids are six weeks old.
During kidding season, all ewes receive a specially formulated production lick at a rate of 300g to 500g per animal. After weaning, the kids are given access to the same lick for between two weeks and a month, depending on conditions.
Shearing
Shearing takes place twice a year, in May and October, and all mohair is marketed through fibre broker House of Fibre. The six-month-old kids (summer kids) produce fleeces that average between 800g and 900g, are B-length, and have a fibre diameter of between 23 and 25 microns.
Before shearing, all young goats up to and including two- tooth animals, are washed with accredited soaps and conditioners to ensure a clean, 'permed' fleece. Once rinsed with water, they are put onto kikuyu pasture for a maximum of three days before being shorn.
"That's where these [kikuyu] lands are gold for me, because I can keep the goats clean," says Webber.
"Washing them and then keeping them on kikuyu pastures before shearing has revolutionised my ability to produce top-priced mohair. If I put them on the veld, they get full of dust and thorns."
After shearing, Webber carefully monitors the weather, as shorn Angoras are notoriously susceptible to sudden variations in temperature.
If he is at all concerned about the weather, he collects and shelters the animals in seven sheds across the farm. Confining them is the last resort, however, as he believes that it detrimentally affects production.