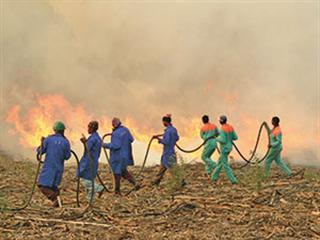 Working alone, it's difficult to make a real difference to conservation in your area. The good done on one farm can too easily be undone on another farm. But several farmers working together in a conservancy to promote conservation practice on a number of adjoining farms, can make a difference. We'll discuss how to form a conservancy in more detail later.
For now, it's enough to know that working together will make it easier for you to implement many of the 'desirable dozen' conservation measures we've covered – such as the creation of corridors, control of feral cats and dogs, monitoring of overhead cables and encouraging awareness in staff. Sharing ideas and experiences always leads to greater effectiveness. The practice of sound land-management policies over a large area will benefit the area as a whole and will lead to economic benefits in the long term.
Conservation farming's 12 steps
To summarise the steps covered:
Adopt mixed

farming strategies.

Protect natural veld.

Protect breeding and roosting sites.

Control dogs, cats and livestock.

Train farm workers.

Use poisons responsibly.

Create ecological corridors.

Protect wetlands.

Protect watercourses and floodplains.

Manage fire appropriately.

Monitor overhead power lines and other potentially dangerous structures.

Co-operate

with neighbouring farmers.
Key contacts
All contact details correct at time of being published. Farmer's Weekly cannot be held responsible for any advice provided by outside sources.
Source: Harrison, J & Young, D, 2010. Farming for the Future: Farming Sustainably with Nature. Animal Demography Unit, University of Cape Town.