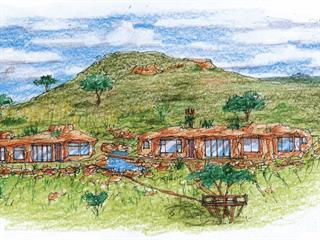 I was recently contacted by Charles who had a design request for something unique.
He had previously stayed in 5-star man-made cave accommodation in Champagne Valley in KwaZulu-Natal's Drakensberg, and wanted to duplicate it on a nearby site.
These caves had proven very popular with both local and overseas visitors, and were almost fully booked throughout the year. This sketch provides a visual perspective of the external appearance of the caves, together with the longitudinal layout of the rooms.
The original caves occupied by the San people of Southern Africa obviously did not have external windows! But roll-down blinds have been fitted to create the illusion of the hollow interior of a cave, and are only opened when required. When I visited Charles's site, we selected the most suitable locality for the cave accommodation. It consists of a step-down terrain that will complement the caves' design and has magnificent views of the mountain.
The innovative construction methodology that will be used by the master craftsman who lives in the valley has to comply with national health and safety regulations and has taken years of trial and error to perfect.
Jonno