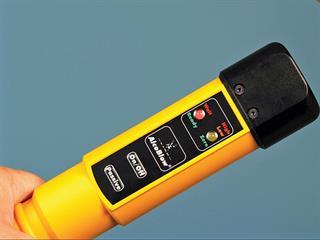 Alcohol consumption in the workplace can cause economic losses and is also dangerous, particularly if staff work with machinery. However, testing every employee is time-consuming and often a source of dissension. In addition, many traditional breathalysers are slow, cumbersome and intrusive for everyday testing of large numbers of people.
The new Lion AlcoBlow Rapid Test simplifies the testing process. It provides a fast, accurate 'pass-or-fail' result based on a breath sample taken without physical contact between subject and instrument, enhancing hygiene and speeding up the process. Within seconds of sampling, a light appears and a tone sounds to indicate the presence of alcohol. The system then automatically resets itself, ready for the next subject.
An upgrade on the original Lion AlcoBlow, the AlcoBlow Rapid features several enhancements developed with customer feedback. There are now two modes: Active mode requires blowing a sample on the cone; Passive mode allows the device to draw a sample from air around an uncooperative subject. The Lion Fuel Cell Sensor uses an electrochemical fuel cell that creates a chemical reaction, resulting in an electric charge in the presence of alcohol. This is more accurate than other methods, which may react to other compounds and deliver a false positive.
The device uses rechargeable batteries, saving money and time.
The AlcoBlow Rapid Test is available from ALCO-Safe at R5 900 excluding VAT.
Phone ALCO-Safe on 012 343 8114 or email [email protected].