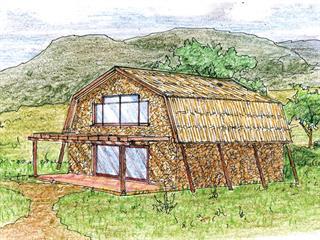 Dear Jonno
We would like to build a stone cabin in the mountains on our farm in the Karoo. It must be an open-plan design with a kitchen and small bathroom with only a shower. It must accommodate two people with the option of putting a mattress on the floor for two children. It must also have a loft and a small wood-burning stove.
The idea is a get-away cottage for artists to spend time painting and walking in the mountains. We have stone for building as well as poplar trees for wood floors and ceilings. I have attached two pictures of the views. If you have any ideas, we would love to hear from you.
Kind regards
Rowan
Greetings Rowan
What a lovely part of the Karoo to be in, and equally a great idea for city folk to spend some time in, away from the rat race.
Attached is a cottage concept for couples, couples and family or family and friends. This can either be a single-storey as indicated by the dotted in-roof on the section, or with a heightened roof area, for a sleeper deck.
As you do have wood and stone 'on top', the construction of the superstructure should be cost-effective. I've shown 'long-shingling' roof cladding, as they call it in the US. Being in the Karoo, with a very high to low temperature range, the wood and stone structuring has to be thermal-friendly. This specific detailing will be shown in your final working drawings.
A small fireplace can also be included; let me know what you think.
Kind regards
Jonno