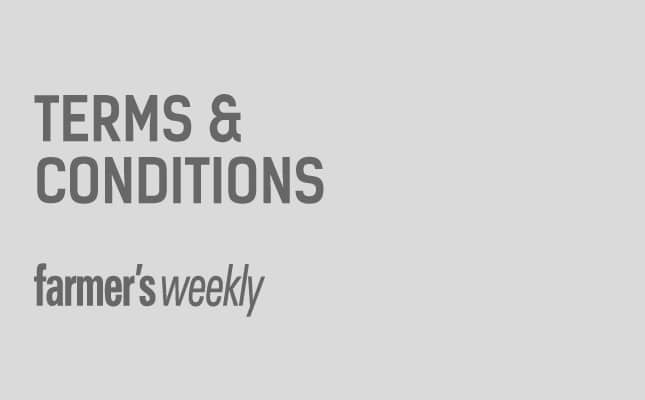 This offer is only valid for South African citizens 18 years or older.
The prize is not redeemable for cash or exchanges.
A maximum of 5 entries per person.
The judges' decision is final and no correspondence will be entered into.
Entries clearly not associated with the entrants name will be disqualified
Entries will be considered incomplete and thus disqualified if the entrant does not provide all requested information including name, telephone number and email address.
By signing up for any competition, you agree to receive the Farmer's Weekly newsletter.
If you have won any Farmer's Weekly competitions in the last 3 months, you are only eligible to win again once this time has lapsed.
Actual prizes may differ from those images used as promotional material for the particular competition;
The prize(s) will go to the first name(s) selected at random after the closing date. Farmer's Weekly reserves the right to publish the name(s) and/or photograph(s) of the winner(s).
All queries in connection with the competition should be directed to the Farmer's Weekly head office: 011 889 0836.
STANDARD TERMS AND CONDITIONS FOR PROMOTIONAL COMPETITIONS