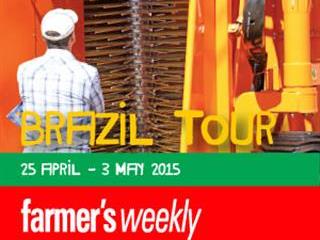 Join Farmer's Weekly on our first tour to Brazil to learn more about this country's agricultural sector. The tour will include farm visits, informative talks on the country's agri sector, and a visit to Show Rural,
one of Brazil's biggest farming expos.
Booking is closed

Tour convenor, Hendrik Jordaan answers all your questions about the Brazil Tour here: FWBrazilFAQ
Itinerary
Sunday, April 26th, 2015:
Arrival at Sao Paulo airport with direct flight from Johannesburg.

Meeting at airport and transfer to Ribeirao Preto.

Evening in Ribeirao Preto
Monday, April 27th, 2015:
After an early breakfast we travel 117km to the city of Sao Carlos and visit the Brazilian Agricultural Research Institute (IMBRAPA) for a talk about the Brazilian Agricultural sector, its current situation and its projected future.

Evening in Ribeirao Preto
Tuesday, April 28th, 2015:
We travel west and visit two mixed farms in the area of Catanduva typical of this area of Brazil where we will have an opportunity to talk to farmers about their production methods and their realities.

Evening in Ribeirao Preto
Wednesday, April 29th, 2015:
Today we travel west to visit a farm in the area of Jaboticabal before we return to Ribeirao Preto.

Evening in Ribeirao Preto
Thursday, April 30th, 2015:
After breakfast we visit the Gold Meat factory in Cajuru to see how they process their products from start to finish and we will also have an opportunity to speak to management about their few of the present and future of the Brazilian Agro Industrial Sector.

Evening in Ribeirao Preto
Friday, May 1st, 2015:
This morning we leave early to visit the Show Rural – one of the biggest farming expos in Brazil and see what the brazilian manufacturing industry produces.

Evening in Ribeirao Preto
Saturday, May 2nd, 2015:
Today we travel the 316km back to the huge city of Sao Paulo where we can have a city tour in the afternoon or just spend the time at leisure.

Evening in Sao Paulo
Sunday, May 3rd, 2015:
Today is also a day for spending at leisure and depending on the time the return flight leaves to Johannesburg we can organise a group activity.




Price per person sharing: R42 460
Price per person single: R54 460
A 50% deposit to be received by 16 February 2015.
Full payment to be received by 1 March 2015
Activities:
Visit to working farms in Jaboticabal and Catanduva

Visit to the IMBRAPA research centre in Sao Carlos.

Visit to the Gold Meat meat processing factory.

Visit to the Agrishow Agricultural Exhibition

City tour in Sao Paulo
Accommodation:
5 nights in hotel in Ribeirao Preto with breakfast included

1 night in hotel in Sao Paulo with breakfast included
Transport etc.:
Flight tickets between Johannesburg and Sao Paulo on SAA

Transport is included for the whole tour in a vehicle suitable for the amount of people and their luggage.

1 Full time guide/interpreter for every 10 people coming on the tour.
Travel insurance also included
The following is not included:
Anything not explicitly mentioned on the itinerary

Personal expenses such as laundry, telephone calls and tipping
GENERAL TERMS AND CONDITIONS
Prices quoted are subject to availability, size of tour group, exchange rate as well as airport and fuel levies.

Bookings made are provisional only. A deposit will be required per person.

Space on the tour will only be guaranteed upon receiving payment in full.

The organisers reserve the right to cancel the tour at any time upon which participants will be refunded in full. A cancellation fee will however be levied if the client decides to cancel.

The organisers reserve the right to amend the itinerary should unforeseen circumstances demand it.

The organisers and travel agents cannot be held responsible for flight delays, inconvenience, any loss of or damage to property, personal injury, illness or death as a result of participating in the tour.

Participants should be in possession of a valid permanent South African passport.

Participants should receive a vaccination for yellow fever at least 2 weeks before departure. Please check with your local travel clinic about suggestions as well as any other vaccinations like Hepatitis A/B, Typhoid as well as Malaria prophylaxis that might be recommended.

No visa required if traveling with a permanent South African passport.
Follow updates on Twitter and Facebook #FWBrazil