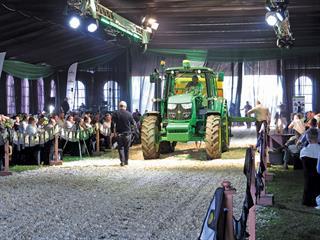 At the recent Mascor showcase in Pietermaritzburg, Jason Brantley, managing director of John Deere (JD) for sub-Saharan Africa, announced that the Mascor Group was the recipient of JD's 'Dealer of the Year' award for an unprecedented three years in a row.
On view were 17 tractor models, from the 42kW John Deere 5303 to the impressive 4WD 9520R. Rated at 382kW, with maximum power of 421kW, the 9520R features the new e18 transmission with one of the smoothest power- shifts on the market.
In the cab, the high- resolution Command Centre Display and the CommandARM enable fingertip control of all major functions. Also of interest was the HarvestLab sensor on the JD 7780 forage harvester. This takes accurate moisture readings of the crop as it passes through the discharge spout. It also measures sugar, starch, acid detergent fibre (ADF), neutral detergent fibre (NDF), ash and protein in maize silage.
When the HarvestLab system is used with the Harvest Monitor system, important data is instantly available, including productivity in ha/hour, total area harvested and total mass harvested – a real boon for contractors.
A special jack enables the cab to be tilted to work on the rear components.
Disc harrow
The versatile JD 2623 disc harrow (below) can be used for primary or secondary cultivation, chopping and burying residue after harvest, or preparing a seedbed ready for planting. Widths are from 6,3m to 14,9m, disc spacing is 230mm, weight per disc varies from 90kg to 110kg depending on the width. The working depth is up to 150mm.
Box drill
The JD 1590 box drill (below) can be used with conventional cultivation, mulch tillage or no-till systems. Three models are available with working widths of 3m, 4,6m or 6,1m and each can have a plain seed box or combination seed and fertiliser bin.
The 460mm single disc openers are mounted at a 7° angle for aggressive action in lands with crop residue. Hydraulic down-pressure can be adjusted up to 181,5kg. When the pressure is set at zero, the openers float about 50mm up and down, following ground contours.
The semi-pneumatic 410mm diameter depth gauge wheels can be set for planting depths from 6mm to 90mm in 6mm increments. Down-pressure on the 305mm diameter closing wheels can be adjusted from 12kg to 20kg and the wheels can be moved laterally to run close to the furrow or to the side. The model seen here is fitted with the optional grass seed attachment.
Self-propelled sprayer
The 206kW JD R4030 self-propelled sprayer (below) has a new wider flat-fold boom, which means fewer passes. The swing link suspension provides greater stability and consistent height above the crop. Boom lengths extend to 36,6m. Dual strut independent wheel air-ride suspension cushions the operator, providing a smooth, stable ride, while enhanced weight distribution ensures excellent manoeuvrability on the road and on the roughest terrain.