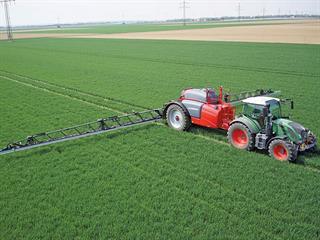 The new Leeb LT trailed sprayers, available with 4 000l and 5 000l plastic tanks, complement Horsch's Leeb GS range and will appeal to farmers who do not need larger-capacity machines. The ECO model has a piston diaphragm pump with manually operated valves for suction and pressure.
The CCS model features the automatic internal Continuous Cleaning System. The CCS Pro is equipped with a modern electronic suction and pressure system similar to the premium equipment level of the GS range.
All three feature BoomControl, the award-winning system that keeps the boom highly stable even when moving fast on uneven terrain.
Effective soil penetration
Available in 4m, 6m and 12m working widths, the Avatar SD single disc coulter seed drill is designed for direct seeding. The coulter pressure of 200kg provides excellent soil penetration, while the strong coulter frame eliminates sideways movement, enabling a consistent sowing depth on uneven lands. A press wheel closes the seed furrow and consolidates the seed row.
New working widths
The Express KR features hydraulic rams to control working and sowing depth, allowing it to be easily adjusted from the tractor cab. Horsch has added new models and a new simple and safe calibration system to the line-up. The machine is now available in 3,5m and 4m working widths in addition to the 3m launch model.
Low-disturbance coulter
The Ultra LD (low- disturbance) coulter will be available for all cultivators and Focus seed drills. Tungsten carbide-coated to guarantee a long service life, it has a special shape to loosen even heavy soils at depth, without bringing coarse soil to the surface.
No test required
The new SeedControl system continuously monitors the seed flow for every row on the drill, with the sensors counting each seed. The result is a seed rate measured in seeds/m² instead of kg/ ha, eliminating time-consuming adjustment of the machine by calibration tests.

Ideal for catch crops
The new-generation MiniDrill has a highly compact design ,yet is equipped with the well-proven Pronto metering unit. The seed is injected directly into the distribution system from a 400-litre seed hopper. The new fan, an in-house development, is extremely quiet.
The MiniDrill is available for all Terrano FX three-point models (3m to 5m working widths) and all Joker CT models (3m to 6m working widths). As only one pass is necessary for cultivation and sowing, the MiniDrill is ideal for efficiently sowing catch crops.