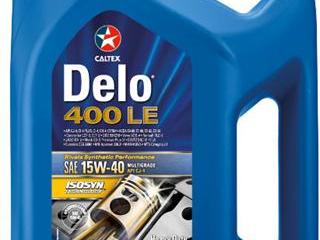 — Delo 400 Multigrade SAE 15W-40 delivers engine durability savings in Cummins ISX 500 Engine –
By Len Badal, Commercial Sector Manager, Chevron Lubricants
CAPE TOWN, South Africa, April 29th, 2013 – Today, Chevron South Africa announced achieving 1M+ km of engine life performance in a Cummins ISX 500 engine that has been using Caltex Delo 400 Multigrade SAE
15W-40 formulated with ISOSYN® Technology ever since it was first put on the road almost 8 years ago by Quality
Oils Transport.
Recently a team of Chevron personnel along with local OE dealer maintenance personnel tore down a Cummins ISX 500 engine for Quality Oils Transport that hauls oil products between Bloemfontein and East London over many miles of changing conditions and elevation grades. The truck had been in operation for over 8 years and had always run Caltex Delo 400 Multigrade SAE 15W-40 in its engine at an OEM recommended 20,000 kilometer oil
drain intervals. There had been no major maintenance done to the truck outside of oil changes, oil filter changes and fuel filter changes. The management team at Quality Oils Transport wanted to see if Delo 400 Multigrade was able to provide critical engine parts protection with this vehicle that hauled over 56,000kg of product 6 days a week in tough travel conditions.
The engine was recently torn down at an OE dealer located in Bloemfontein, South Africa and the parts were in- spected and both filmed and photographed for inspection. After 1M+ km, the key parts including the main bearings, connecting rod bearings, pistons, and piston liners showed limited wear and minimal deposits. The engine itself was very clean with no sludge or deposit buildup on critical parts or the engine deck. The management Team at Quality Oils was very happy with the performance and noted that they had "always believed in the performance of Delo 400, but now could see its protection in the parts from the engine".
Additionally the OE dealer mechanics onsite were impressed and commented that with the number of trucks and engines they see in a year (with almost all having less total mileage) they have never seen an engine with over 1M+ kilometers that looked in such good condition and had parts with limited wear or deposits.
Quality Oils indicated that Delo 400 Multigrade has shown that it can provide excellent engine protection in their equipment and they are able to save money by extending out engine overhauls. These are large savings and allow Quality Oils to maintain their excellent customer service and competitiveness in a tough industry.
Maximizing Engine Durability – Caltex's Delo Product Family:
Caltex's Delo product family includes engine oils, premium lubricants and extended life coolants for launch later this year that provide premium performance and bottom-line value for diesel powered vehicles.
More information on Delo products can be found at: www.deloperformance.com