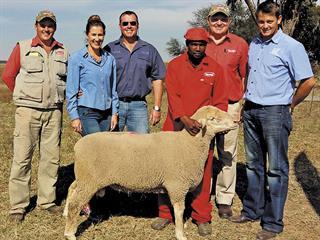 Excelsior – The first Magetzane SA Mutton Merino production sale was held on 1 June. The offer consisted of 25 rams and 315 flock ewes.
Rowlen von Gericke of Winburg sold the highest-priced ram (4106 RVG) to Blanche and Pieter Keyter of Excelsior for R11 000, and the average price was R6 975. The average price for flock ewes was R2 085.
The sale was conducted by Vleissentraal Bloemfontein, with Allan Sinclair as the auctioneer.