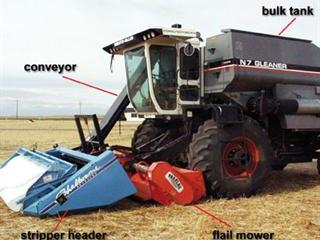 THE FIRST GRAIN STRIPPER WAS invented by Australian farmer, JW Bull and built by John Ridley in 1843. At the age of 17, Hugh Victor McKay conceived the first stripper harvester in 1882. The prototype of this revolutionary concept that could strip, thresh, winnow and bag the grain was operated successfully on the McKay family farm in Drummartin, Victoria in Australia in 1884. By 1885 the patented Sunshine Harvester was in full production in Ballarat, Australia.
This machine was the principal method of harvesting wheat in Australia until 1913 when Headlie Taylor devised an improved version that could remove grain from crops that had been flattened by bad weather.
Hugh McKay attended a demonstration of Taylor's machine and was so impressed that he bought the rights to the new design. By 1916 manufacture of the Sunshine Header Harvester was in full swing.
The header harvester was superior in that it could "lift" the heads of damaged crops and collect grain that would otherwise be lost. It was more efficient, cutting the wheat heads rather than beating or pulling them off. Taylor also devised the first motorised harvester in 1924 and by 1927 the Sunshine Autoheader became the first self-propelled machine to be sold in large numbers. At one time, the Sunshine factory was the largest manufacturing operation in Australia. A Sunshine header is part of the collection of vintage machinery on show in the museum hall at Nampo in the Free State.
British company, Shelbourne Reynolds Engineering, developed the modern stripper header as a replacement for the standard cutter-bar header on a combine harvester. The fact that only the grain heads were harvested without the straw meant that the capacity of the combine could be doubled. This header was initially very successful but changes to legislation, which banned the burning of straw, slowed sales in the UK. In other countries the header continued to be successful for harvesting rice and other crops. In South Africa Shelbourne Reynolds headers are marketed by Northmec.
Harvesting new techniques
A team headed by Mark Siemens of the Agricultural Research Service at the US Department of Agriculture is investigating a new technique based on these tried and tested principles. Instead of cutting the wheat in the same way as a combine harvester, Siemens's harvester uses a Shelbourne Reynolds header to strip the wheat heads and then convey them into a huge bulk tank, which takes up all the space usually occupied by the threshing and separating mechanism on a standard combine. Behind the header is a flail mower that chops the standing residue. The grain heads are then transported to the farm where a stationary threshing unit separates the grain from the chaff. It is envisaged that one threshing unit could handle the input from several headers or service a number of different operations. The components of this system are much less expensive than the cost of a modern combine harvester, which can be up to R1,5 million.
The system eliminates problems associated with cultivating the stubble after harvest, especially if a no-till system is in operation. The flail mower reduces the residue to small bits that are less likely to block cultivators or choke seed drills. The need to reduce input costs in reduced tillage operations was one of the main motivations for the development of this harvesting system.
For information on the Shelbourne Reynolds stripper header contact Paul Viljoen of Northmec on (011) 922 2307 or e-mail [email protected]. |fw
Captions
This Sunshine Header is in the Nampo Vintage Museum at Bothaville in the Free State. – Joe Spencer
The prototype harvester developed by Mark Siemens's team. – ARS