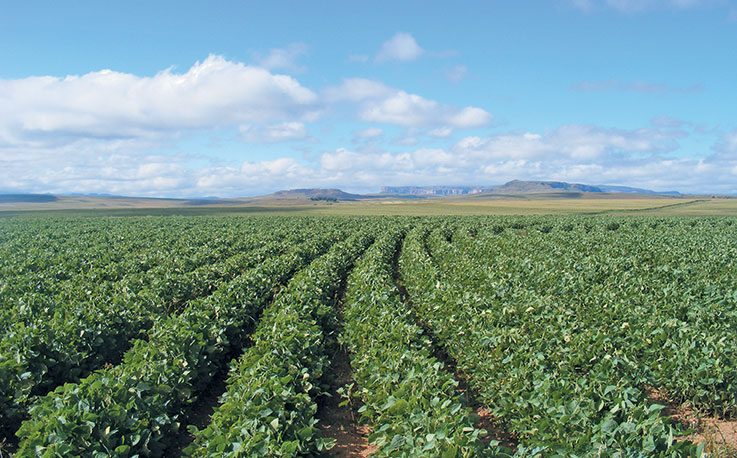 Why are you so passionate about soya beans?
From the outset, I made it my mission to prove that soya beans could be grown successfully in South Africa. In the 1970s, high levels of fishmeal were used in animal feed in South Africa.
They were far higher than in other countries simply because South Africa produced a surplus of fishmeal. Even chickens tasted of fishmeal! At the time, virtually no soya beans were produced locally.
In 1972, the US produced 35 million tons of soya beans, Brazil and Argentina 3,2 million tons, and South Africa 4 600t. An interesting situation then developed.
The fishing industry created a research fund for soya beans. The aim was to replace fishmeal with soya beans, which would allow the industry to export more fishmeal to realise better prices.
In 1976, the then Protein Advisory Committee [PAC] was created, but with very little results.
When I was elected as chairperson of South Africa's Animal Feed Manufacturers' Association [AFMA] two years later, I criticised the lack of progress in my chairperson's address.
At the time, virtually nothing had come from the research community except a decision by the PAC to include an item on its agenda called 'Encouragement of soya bean production'.
In 1990, the Protein Research Foundation [PRF] replaced the PAC. I was appointed as a member of the PRF and soya beans became our responsibility. When we started promoting soya beans, we were confronted with claims that it could not be produced sustainably in South Africa.
In 1996, the PRF initiated a soya bean working group. The activities of this group were really the beginning of a sustainable and profitable soya bean industry in South Africa.
I was appointed chairperson of the soya bean working group, and it is with sincere gratitude that I look back over the past 20 years of soya bean development.
How has the industry evolved since 1996?
The first target that we set ourselves was to produce 100 000t of soya beans before the year 2000. The successful production of 120 000t on 87 000ha in 1996/1997 was followed by 215 000t on 125 000ha during 1997/1998.
Since then, we have seen constant growth in both hectares planted and in yield. In 2014/2015, we exceeded the one-million ton mark for the first time, producing
1,04 million tons on 687 300ha.
In the recent production season, only 573 950ha were planted to soya beans, but an all-time record yield of some 1,2 million tons was realised.
What has been the biggest mistake in soya bean production in South Africa, and what did we learn from that?
Undoubtedly the greatest error was that maize producers took far too long to accept soya beans as a complementary and supporting commodity, rather than a competing commodity.
Also, the seed industry in South Africa received very little statutory protection. This made it possible for producers to retain grain as seed.
On the other hand, the emphasis on conservation tillage has resulted in an increased awareness among grain producers of the benefits of rotating soya beans and maize.
What has been the best decision on soya bean production in the country, and what did we gain from that?
Our single best decision, which had the greatest impact, although not quantifiable, was to sponsor and stage the World Soya Bean Research Conference IX [WSRC IX] in 2013. This put South Africa firmly on the soya bean map, so to speak.
The PRF also supported a generic marketing campaign to promote soya beans.
Since then, a considerable number of international seed companies have come to South Africa, with the oil-crushing industry investing heavily in state-of-the-art equipment.
It also resulted in the doubling of local crushing capacity, especially in terms of soya beans.
What are your thoughts on this year's record harvest?
The picture could have looked much better if farmers hadn't gone overboard in planting white maize simply because of the previous year's good price. If they had kept to moderate hectares for maize, who knows what the result might have been?
The one thing I can tell you is that the farmers who did plant both maize and soya beans in the past year will certainly carry on doing so in future.
The expected crop of 1,3 million tons will certainly be a record. It will also be the second-highest average yield at 2,34t/ha to date.
Why do you think grain producers in the western grain production region are hesitant to plant soya beans?
Nematodes in the sandy soils of the western areas were and still are a challenge. Nonetheless, the tide is slowly turning in favour of soya beans.
We have some cultivars that did exceptionally well in the western region during the past few seasons, especially last year.
There is growing appreciation for the value of soya beans as a rotational crop and as a means of increasing maize yield.
Soya bean pioneers in these areas realised very positive results. I've no doubt that they will increase the ratio of soya beans to maize markedly in the future. Other grain producers will undoubtedly follow.
How prevalent is the problem of seed retention and how does it affect South Africa's soya bean industry?
The soya bean is a self-pollinating crop, and lends itself to grain retention for seed, but the broad-spectrum systemic herbicide, Glyphosate, and the Roundup Ready cultivars, have revolutionised the soya industry.
Unfortunately, there are no soya bean hybrids, and producers therefore frequently retain grain as seed. This is exacerbated by the fact that new cultivars are very expensive.
The sharp increase in the demand for seed in the past decade has also meant that seed companies often have insufficient seed available. This, to a certain extent, has forced farmers to plant grain as seed, but the principle of grain retention as seed can never be justified.
The new concept of an end-point royalty system (EPRS) is, in my opinion, the only solution. With an EPRS, producers would have to pay a statutory levy on each ton of soya beans delivered, to be ploughed back into the industry to fund activities such as research and development.
This would allow South Africa access to the latest cultivars. We need such access because virtually no new traits are entering the South African market at the moment.
We should remember that South Africa contributes less than 0,5% of the world soya bean production. For this reason, seed companies are not exactly falling over their feet to get the latest technology onto the South African market.
What will SA production look like in a decade?
In 2015, the PRF set a target of one million hectares and 2,5 million tons of soya beans by 2020. This meant an average yield of 2,5t/ha. But the number of hectares didn't increase as fast as anticipated, mostly due to climatic conditions.
Following the success of the past year, we're fairly positive we'll achieve one million hectares by 2020. We're aiming for a crop ratio of 70% maize to 30% soya beans.
Presently, the ratio is only 82:18 [maize:soya beans], whereas it's about 50:50 in the US, and 18:82 in Argentina.
Because of the constant stream of newcomers to the soya bean industry, it will obviously take us a little longer to achieve an average yield in excess of 2t/ha. We'll probably not reach an average of 2,5t/ha, but can undoubtedly achieve the one million hectare mark or more by 2020.
I've often stated that production of soya beans is a win-win situation, and I don't see that changing in the next decade.
Email Gerhard Scholtemeijer at [email protected].
Watch: Josh Butt, a farmer with the Butt Farming operation, harvesting soya beans using a combine harvester.