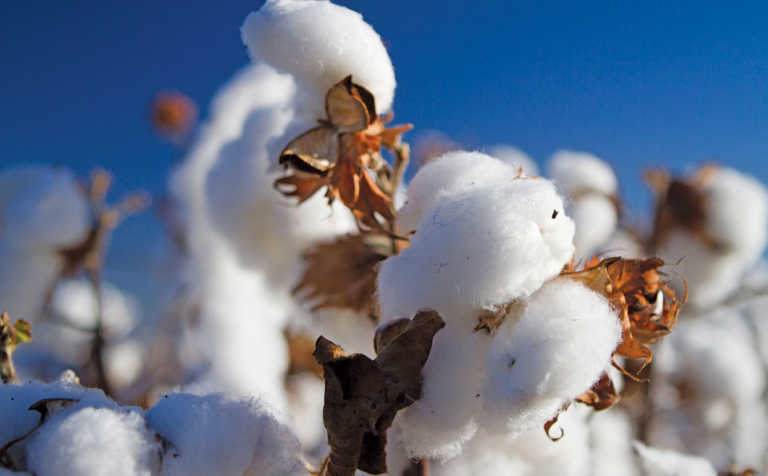 Cotton has been used as a fibre for more than 7 000 years. Unlike fossil-based fibres, it is sustainable, renewable, biodegradable and carbon neutral.
"It can be used without depleting or damaging the environment, making it an excellent choice as an environmentally friendly fibre throughout its entire product life cycle," says Arno Janse van Vuuren, agribusiness NWK's manager of agricultural management.
NWK recently conducted a survey to determine the potential for cotton production and expansion in the company's service area, which includes Lichtenburg and Mahikeng in North West.
READ Cotton gains ground with up-to-date harvesting tech
The main production regions in the province include Stella, Delareyville and Schweizer-Reneke, which together produced 17 832 lint bales (200kg each) of the provincial crop of 23 299 bales in the past season.
Cotton (Gossypium hirsutum) is a tropical crop and as such prefers summer temperatures of 25°C or higher, and soil temperatures that stay above 18°C during germination.
As most of the world's cotton is produced outside of the tropics, cotton-growing areas have to be warm enough to ensure a good crop. Cotton is generally not produced in areas higher than 1 400m above sea level.
The plant is hardy and resilient to drought.
Cotton in figures
According to the International Cotton Advisory Committee (ICAC), global production of
the crop in the 2017/2018 season was 26,9 million tons, a 16% increase on the previous season.
The major producers, which together were responsible for 90% of global cotton output, were India, China, Turkey and Uzbekistan.
Global demand increased 8% to 26,9 million tons in the 2017/2018 season. The committee has forecast a 4% fall in production to 26 million tons in the 2018/2019 season. Production is expected to decline 2% in India, the world's largest producer, due to pink bollworm infestation.
READ Dealing with the African bollworm
According to Cotton South Africa's ninth crop report for 2017/2018, South African farmers planted 17 695ha to dryland cotton and 19 782ha to irrigated cotton. The country produced a total yield of 195 805 bales of cotton lint (200kg each) in 2017/2018, an increase of 152% on the previous season.
Dryland and irrigation plantings increased 67% and 171% respectively, most likely due to rising demand for cotton, and the fact that the cotton price is currently higher than that of other South African commodities, such as maize.
North West production
The expected dryland average yield for North West is 1,17t/ ha, while the average yield for the irrigated crop is anticipated at 5t/ha.
According to the NWK survey, North West farmers planted a total of 4 020ha to cotton in the 2017/2018 season, with 2 980ha planted on dryland and 1 340ha on irrigated land.
Most of the area planted to dryland cotton is in the Mareetsane region, while most hectares planted to cotton under irrigation are in the Groot Marico region.
"Limpopo is the country's largest producer of cotton, especially in the Koedoeskop and Dwaalboom areas, with 5 083ha of cotton planted on irrigated land and 193ha on dryland," says Janse van Vuuren.
Support from SA retailers
Local demand for cotton is currently 1,8 million bales, but production is below 200 000 bales. Retailers such as Woolworths and Mr Price, which are members of the Sustainable Cotton Cluster, have committed to procuring South African cotton. This has helped increase demand for the locally produced product.
According to Janse van Vuuren, the local cotton industry's immediate objective is to replace at least 50% of imports with locally produced cotton.
READ Cotton and mohair sectors to promote local consumption
South African cotton is of exceptional quality and is internationally sought after as the country is an active member of the international non-profit Better Cotton Initiative (BCI), and is BCI-accredited. The initiative's mandate is to encourage sustainable cotton practices by focusing on care for the environment and improving the lives of the people who work on cotton farms.
Water usage
According to Janse van Vuuren, the crop performs particularly well on irrigated land, with potential yields of more than 7t/ha of high-quality cotton.
"Good yields are possible on dryland, but the crop is dependent on a good moisture supply, such as lands with a high water-table level or lands that have been left fallow for a season."
An average yield of more than 5t/ha is possible under irrigation.
The optimal planting date for cotton in North West is the last two weeks of October.
Janse van Vuuren says early planting is essential to ensure that the cotton receives enough rain as early as possible to avoid weather variability later in the season. As cotton requires 180 days to reach maturity, poor weather later on can shorten the growth period.
However, a problem with cotton production in North West is that planting can be delayed because of a lack of rain early in the production season.
Improved equipment at a cost
Many farmers in the NWK service area are considering planting alternative crops. However, as both labour and mechanisation costs are high with cotton, farmers remain reluctant to plant the crop.
Cotton can be harvested mechanically, either by a picker or a stripper. The former picks the cotton from the boll by means of revolving spindles, fingers or prongs, without causing material damage to foliage or unopened bolls.
This method is generally used only for a yield higher than 5t/ha. The stripper pulls off the entire boll or severs the stalk near the surface of the ground. This machine is used only if the yield is lower than 5t/ha.
Due to technological developments, the harvesting process has improved significantly over the past few years. For example, today's cotton harvesters produce round bales wrapped in a plastic film to protect the crop.
These advances come at a price, however; a modern harvester costs about R10,5 million new. Harvest contractors are also expensive.
Despite these costs, cotton production can be lucrative. The current break-even point for high-quality dryland cotton is 1,5t/ ha (calculated at an expected producer price of R8 160/t and using a stripper for harvesting). The break-even point for average-quality, irrigated cotton is 3,78t/ ha (calculated at an expected producer price of R7 508/t and using a picker for harvesting).
"These statistics show that cotton could be produced profitably in North West, despite the exceedingly high harvesting costs," says Janse van Vuuren. "Hand-picking is labour- intensive, while mechanisation is expensive. It prohibits producers from considering mechanisation and pushes up the price of leased equipment significantly."
Careful planning essential
The crop's relatively long growing season requires detailed planning. With the climatic volatility of North West, the growing season can end up dramatically shorter.
READ 'Careful planning needed to ensure success'
But irrigated winter production can also be challenging; in particular, production can suffer if the first cotton crop is not harvested in time for subsequent planting. Effective and sustainable cotton production thus depends on a carefully designed rotational crop production system.
However, says Janse van Vuuren, irrigated cotton could have an income potential of R37 550/ha at R7,51/kg and a yield of 5t/ha [mechanically harvested].
"The comparable income potential for maize is R20 000/ ha at 10t/ha. A switch to cotton would clearly add more value to the agricultural value chain than maize."
Email Arno Janse van Vuuren at [email protected], or phone him on 018 633 1145.