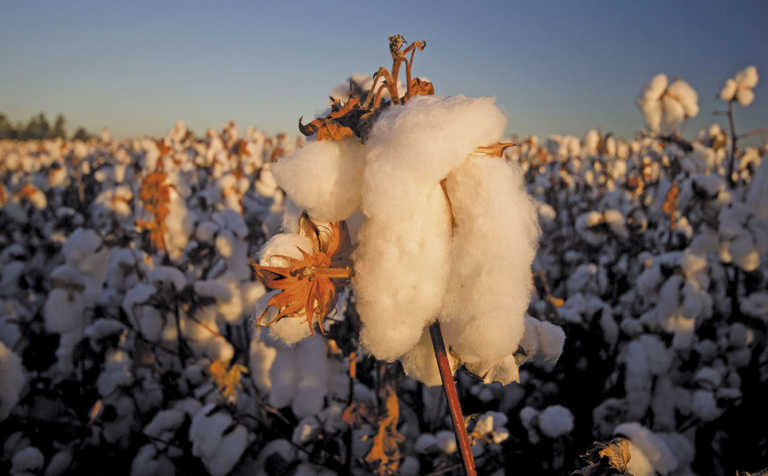 Deon Marais tries to spend at least a few weeks every year out in the field bringing in the cotton crop. Having grown up in the industry, he has an affection for it.
His day job is in biocontrol, but during his downtime, he operates a cotton picker, owned by his friend, Richard Godfrey-Thom.
The picker is contracted out to other farmers in the Northern Cape Vaalharts region, with Deon, Richard or other operators, driving it.
Deon says the arrival of cotton pickers (or combines), such as the John Deere 7720 that he operates, has revolutionised the cotton industry in South Africa. Agribusiness GWK Cotton first brought in one of the pickers six years ago.
"It made a big difference in the cotton industry. Prior to that, most of the farmers used little two-row pickers, with a few four-row pickers, but that was in the minority, and all old technology," he says.
On a good day with such outdated machinery, you would have been able to harvest about 4ha/day, provided the machine was in good condition and you were harvesting optimal lands, he explains.
But the harvester he's now driving is a six-row picker, and can work its way through between 15ha and 20ha per day.
A cotton-picking baler
The new-generation cotton picker Deon drives is customised to harvest irrigation cotton.
It bales and wraps as it goes along, spitting out neat, yellow cotton rounds, weighing about 2,2t each.
Although it is also referred to as a combine, a cotton picker works differently from the more common maize harvester.
Deon explains that there are picking units located at the front of the machine, which have metal spindles with fine hooks or spikes.
These are moistened as the harvester moves forward, and the cotton bolls are plucked from the woody stems and drawn into the machine. The bolls are then conveyed to the accumulator tank, where the lint mass is turned into bales.
As a bale reaches completion, accumulation continues, while wrapping occurs.
The finished bales are dropped off at the edge of the field when the machine makes its turn.
Deon says the on-board baler is a fantastic asset. In the past, they had needed two tractor-drawn intermediate trailers per picker to collect the harvested cotton, which would then be taken to module builders.
"They would literally build a rectangular bale and press the lint into it until it makes a bread-shaped block. This was then pulled out, covered with sails and kept until they came to collect it with a specially designed loading vehicle that would transport it to the gin."
The new-generation pickers are expensive, costing around R10 million brand new. But, Deon says, good-quality second-hand machines are available at much better prices.
"In the US, they tend to use them for a season and then trade them in for a new one. So you get good-quality second-hand machines."
Cleaning the harvester is an important aspect of its general care and maintenance. Deon says they spend several hours every day washing it from top to bottom before they start harvesting, as the cotton lint and fluff that gather on the harvester present a major fire hazard.
To further guard against fires, there are fire extinguishers and a 1 200ℓ water tank with a high-powered spray nozzle on the machine.
Planting cotton
Richard owns the machine and a 220ha farming operation. He took over running the family's Godfrey-Thom Trust, including its lands, when his father passed away in December 2012.
"I remember in the 1980s when we had that drought here; my dad and my grandfather had one of those two-row cotton pickers.
"My dad actually went contracting out for other farmers along the Orange River because they could still plant; we had water restrictions and couldn't plant here. So we've always been in the cotton business."
Richard says that he follows a cotton-maize-wheat rotation programme, and recently also diversified into pecans and citrus.
In summer, maize and cotton are planted together, with half the crop planted to maize, and half to cotton.
"In winter, the half that had cotton on gets planted to wheat. After the maize has been harvested, the ground lies fallow and gets planted to cotton the next season," he says.
He sees cotton as a good rotation crop, because wheat and maize are both grass species, while cotton is a broadleaf, "so it breaks the cycle for pests and diseases specifically focused on grass family plants".
"Our wheat and maize also do much better after cotton, because the root structure of the cotton helps improve soil quality," he says.
This season, Richard planted three cultivars, including Bayer's Candia, and two cultivars from the Monsanto company, Deltapine.
"The two we plant are 1541, which is a new cultivar, and then 1240, which is the older cultivar that replaced the original DB210," he says.
According to him, the different cultivars enable him to better manage risk.
"Because the cultivars' tempo of grow and development differs, they are affected differently by the weather. For example, one might develop a bit slower, so when it gets a lot of rain, it might not be impacted as much as another cultivar that is already in full flower at that stage."
He adds that it is also important to test what works best for specific lands.
"I think you'll never know if something is better if you haven't tried it, so you need to test the different things and see if it is better or can be done better.
"For myself, I look at the Australian cotton industry a lot. I think they are really good and really on the ball with new technologies and cultivars."
Generating income
He sells the cotton directly to the Vaalharts gin, with prices contractually agreed upon prior to planting. Gins will settle on a price based on analysis by Cotton SA, the International Cotton Advisory Committee (ICAC), and the global Cotlook Indices. The derived SA price for cotton on 4 July was R2 459,67/kg.
Richard says that while the cotton crop generates a higher profit than his contracting work, which has high expenses due to the maintenance cost of the machine, the contract work comprises the greater share of the business.
Richard harvests only about 68ha of cotton per year, and to justify the cost of the machine, he needs to harvest about 500ha/ year.
As such, he has to do contract work with the harvester, which has the capacity to harvest 700ha/ year, and says there is plenty of contract work available.
"I think a lot of farmers are starting to mechanise. With the old pickers, a lot of the newer farmers weren't really willing to plant cotton because of the tedious process."
The 2017 crop
Cotton is not naturally a short plant, and the short grower trait has been bred into the crop over the years. In order to shorten the length of the plant even more, Deon says that many cotton farmers also spray the crop with a growth inhibitor, enabling it to direct more energy into forming cotton bolls.
This year, Richard harvested later than planned due to the weather conditions.
"At the end of the season, you spray on a defoliant, which makes the leaves drop off. When we were supposed to spray the defoliant, we had two weeks of rainy weather, so everyone stopped spraying. Thus, we automatically started harvesting later than usual," Richard says.
Deon adds that the timing of the rain and sunshine this year has had an impact on harvests.
"This year, South Africa won't have the record harvests we had in previous years. Last year, producers were taking off yields in excess of 7t/ha versus expected yields of 5t/ha to 6t/ha this year. But even so, there are still a few guys who have done well," he says.
Phone Deon Marais on 060 526 6347, or email Richard Godfrey- Thom at [email protected].