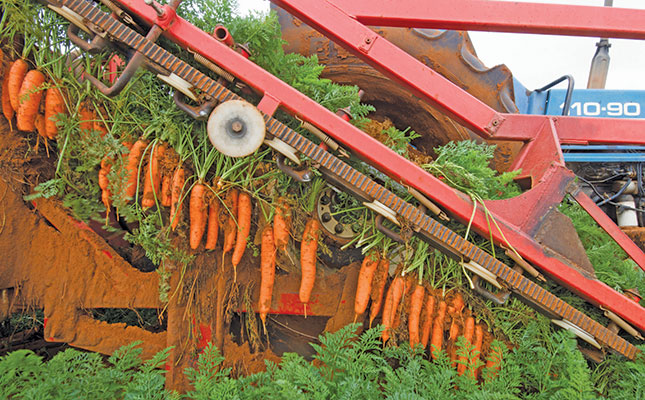 Johannes Griesel has been producing carrots on the farm Wilson's Fort in the Bainsvlei area of Bloemfontein for the past 25 years. He started growing the vegetable under his brand name, Eat JJ's, as an alternative to the potatoes his father had been planting.
"The soil was depleted, so I had to look for an alternative that was more resistant to disease. I started with a half a hectare of carrots under irrigation in 1994," he recalls.
Nowadays, the carrots, along with beetroot, are the backbone of the business. The two vegetables account for about 70% of turnover and are mutually compatible in terms of resource allocation.
"We use the same planters and harvesters to produce them, and both are handled in the same packhouse, with one line for carrots and another for beetroot," he explains.
Of the remaining 30% of turnover, 10% is derived from grain crops such as maize, and 20% comes from egg production.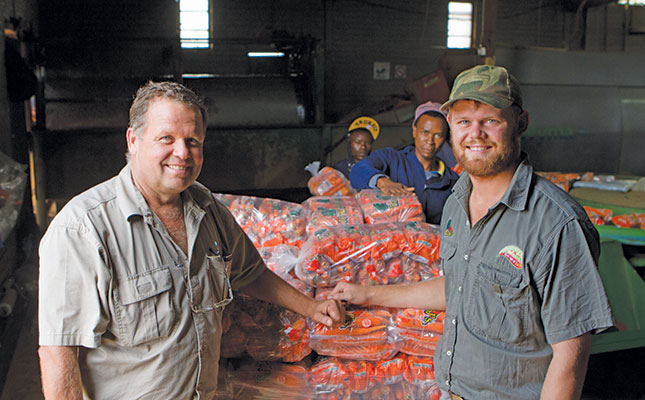 The operation is run as a true family business. Griesel's wife, Marie, and daughter, Marlene, handle the finances and secretarial services, while his son, Fanie, works on the cropping enterprise, and his son-in-law, Ruan Prins, manages the farm's layer facilities.
The eggs are marketed under the brand name Nutrilay Eggs.
A total of 160ha of carrots and about 150ha of beetroot are produced per annum in a rolling production system.
Griesel plants about 12ha of carrots a month under pivot irrigation. Each hectare can cost as much as R100 000 in inputs, with seed, electricity, fertilisation, labour and transport being the most expensive components.
"The crop takes roughly 4,5 months from planting to harvest in the summer months, and between five and six months in winter," he says.
Harvesting is carried out with a DeWulf carrot harvester, which removes the carrots at a rate of 30t/h.
"We harvest between 70t/ ha and 100t/ha, depending on the cultivar and the time of year," he says.
The harvested crops are taken immediately to the packhouse, where they are washed, polished and hydro-cooled without delay.
"It's important to cool them down as quickly as possible to promote shelf life," explains Griesel, adding that the core of the carrot must be cooled to 3°C or 4°C. From there, the carrots are sized, graded and packaged before being dispatched to clients.
"What we harvest today we pack today, and it'll be on the supermarket shelf tomorrow," says Griesel.
Despite being highly automated, the operation remains labour-intensive. The packhouse operates Mondays to Fridays during office hours and provides daily work throughout the year to about 150 people, the majority on a contract basis.
The business also employs about 25 permanent staff, including maintenance and packhouse managers, and production and logistics personnel.
A delicate crop
According to Griesel, the most difficult aspect of carrot production is nurturing the crop through its initial growth phase, as the seedlings are delicate and susceptible to damage.
"If we have load-shedding and can't irrigate at the early- growth stages, there's a risk of wind damage. Soil blown by the wind can destroy young carrot shoots," he explains.
Land preparation is crucial. After ploughing, Griesel and his team use a rotavator to incorporate 2:3:4 (30) pre-plant fertiliser at about 900kg/ ha a week before planting.
"We then prepare the seedbed, which must be very fine and level."
The carrots and beetroot are planted using the same Monosem fine seed planting system, with carrots spaced to achieve 1,2 million seeds/ha.
Griesel plants wheat at the same time to act as a 'nursery crop' for the carrot seedlings.
"The wheat emerges more quickly than the carrots and provides protection from the wind and sun," he explains.
The wheat is destroyed chemically a month into production, or when the carrot plants reach the three-leaf stage. The herbicide also acts against other problem broadleaf and grass weeds.
Griesel applies his first top-up dressing at this stage, and continues applying fertiliser every two weeks or so until the crop is harvest-ready.
When the crop is approximately 2,5 months old, he conducts a leaf-sap analysis test and uses the results to address any trace element or mineral deficiencies.
Weeds and pests
Weeds are often a challenge for carrot growers, and certain pests and diseases can also be a threat, depending on the region.
For Griesel, cutworms and nematodes are notable pests, but neither is of serious concern. He scouts regularly, taking action as needed to prevent outbreaks.
A greater threat is damping- off, which is caused by fungi such as Rhizoctonia or Fusarium in the soil. These attack the stem of the plant and cause the leaves to drop off.
The problem occurs during summer, when the temperature climbs as high as 38°C, and is followed by a much cooler day.
"The fluctuations activate the fungus present in the soil," says Griesel.
He applies fungicide proactively during the three- to four-leaf stages of the growth cycle to prevent the emergence of the fungi.
"If we don't spray, we could lose an entire harvest within two days," he says.
Carrots grow all year round and are frost-resistant. But their growth slows down in winter, which has prompted Griesel to use frost cloth to reduce the time to harvest.
"I've managed to reduce the growing period from around six months to between five and five-and-a-half months," he says.
Griesel is clearly proud of his carrots, which he describes as sweet, crisp and tasty. The reason for this, according to him, is the soil and water quality on his farm.
The lands consist of what is known as the Bainsvlei soil complex, a red sandy layer of topsoil above a lime layer.
"It's the lime that helps make the carrots sweet," says Griesel.
In addition, he irrigates from boreholes rather than a river, which ensures good-quality water.
These and other criteria are crucial, as the farm has GlobalGAP certification and is subjected to regular audits.
Rotation 
Carrots are planted in a rotation system that sees each carrot land resting for two years between cycles.
The lands are planted first to carrots, then to beetroot. This is sometimes followed by maize. Rotation not only rejuvenates the soil, but breaks pest cycles and reduces pathogen build-up.
Griesel plants a number of cultivars, which change depending on the season. This is to spread risk; for example, some cultivars provide better yields while others offer greater disease resistance. Certain cultivars also perform better in summer or winter.
"I have four or five different cultivars planted at any given time," he says.
The rolling production system enables the farm to deliver daily to clients across the Free State and Northern Cape.
These include Shoprite/Checkers, Metro Food City, Fruit Lover's Market outlets, and fresh produce markets in Bloemfontein and Welkom.
Phone Johannes Griesel on 082 553 0812, or email him at [email protected].