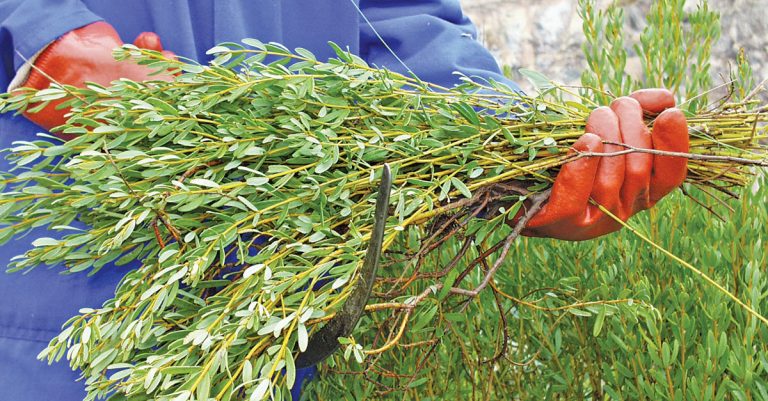 The past few years have seen growing interest in honeybush (Cyclopia spp) production, but quality and taste have not always been up to standard, resulting in poor returns. The situation was exacerbated by COVID-19-associated trade disruptions, which brought exports to an almost complete standstill.
However, Quinton Nortjé of Nooitgedacht farm, who harvests wild honeybush from the Kouga Mountain range in between the Langkloof and Baviaanskloof, is one of the few farmers who has managed to more or less continue with business as usual.
"Aside from a few hiccups during Level 5 of the [COVID-19-related] lockdown, we haven't really been affected, and even employed a few extra people to alleviate the impact of the lockdown on employment in our community," says Nortjé.
Nortjé and his wife Eunice run the business together, and ascribe their success to a combination of teamwork, a sought-after product and a secure market.
Access to overseas markets
Nooitgedacht, located near the town of Kareedouw in the Eastern Cape, has a rich history of honeybush production, and Nortjé is the third generation to harvest the plant from the wild.
Deregulation in the 1990s opened up new market opportunities, initially to Germany and the UK, but Nooitgedacht struck it lucky when a South African tea trader living in Japan chose the farm to supply the Japanese market with honeybush tea, following visits to numerous producers.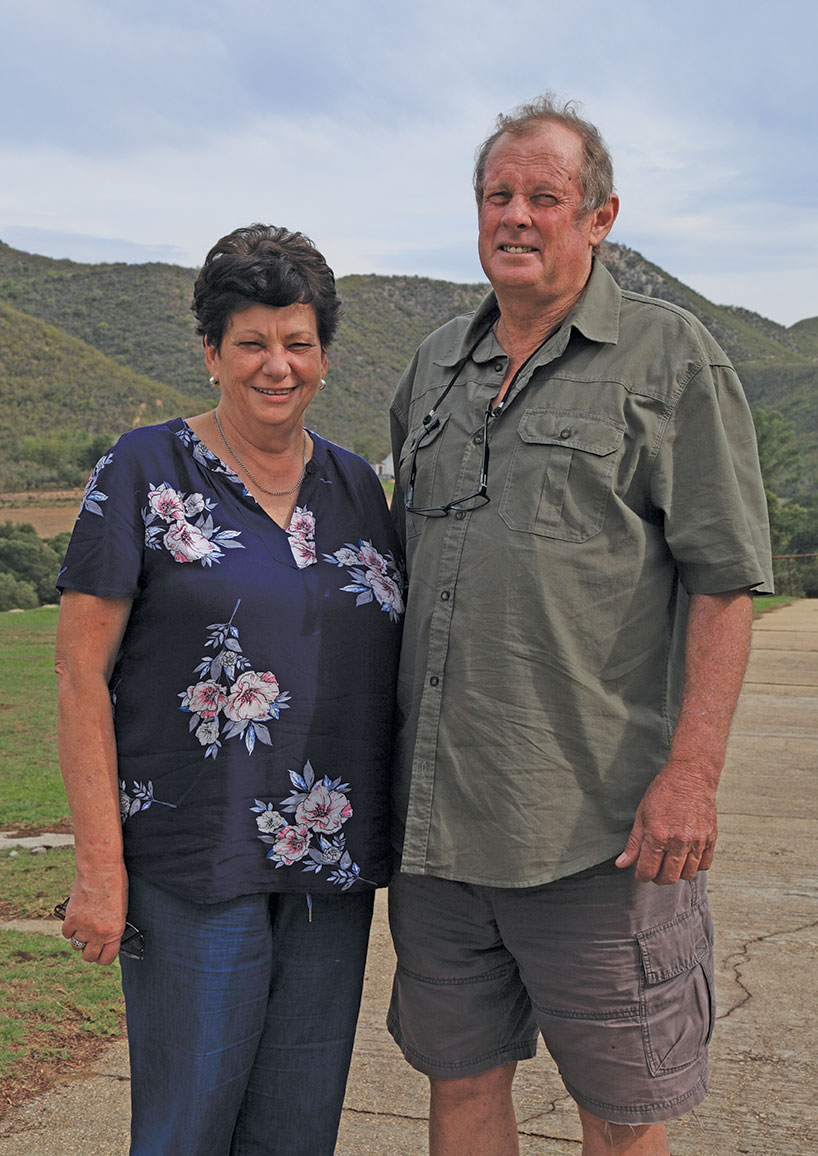 "Farmers often make use of agents when they struggle to sell their tea. Unfortunately, many of these agents don't add value to the industry, and merely shift product from one place to another. Our trader, however, gives market feedback and actively promotes our tea. Sales might sometimes decline, but [we're confident that we won't] lose our market, because someone is looking after our best interests," explains Nortjé.
Today, approximately 80% of Nooitgedacht's annual harvest is exported, with about 50% sent to Japan. The rest is exported to the US, UK, Germany, the Netherlands and Switzerland, or sold at selected local farm stores and health shops.
The exported tea, in 20kg bags, is repackaged and branded once it has reached its destination, while the rest is sold locally under the Melmont Honeybush Tea brand.
"Branding our tea helps us differentiate our product from others and build loyalty," says Nortjé.
Samples of each batch have to be sent to overseas buyers before it can be exported. Before it is shipped, the tea is also chemically analysed to ensure it complies with export market standards.
Quality is king
The Nortjés have gained a reputation as producers of sustainable, premium-quality honeybush tea.
"You need to decide which game you want to play. If you produce a mass of mediocre-quality tea, you'll always be vulnerable to price fluctuations. Top-quality products, by contrast, are always sought after and fetch premium prices," says Nortjé.
He adds that their tea is not certified organic due to auditing costs, "but it's as organic as you can get".
The farm produces honeybush from the C. intermedia species of fynbos, which grows naturally on the cooler and wetter southern slopes of the Kouga range, at 1 000m to 1 200m above sea level. According to Nortjé, this species is superior to all others in terms of quality. The only problem is that it is difficult to cultivate, and most of the cultivated plantings contain the C. genistoide and C. subternata species.
Rhodes University, in collaboration with Living Lands, a not-for-profit environmental organisation, is developing a way to address this issue through the use of boiled water to artificially germinate the C. intermedia seeds. These seeds have been planted at Nooitgedacht, and Nortjé is optimistic about the results so far.
"The ability to cultivate the plants will significantly reduce risk by enabling farmers to plant the species in new areas and replenish wild plantings following outbreaks of drought and fire," he says.
Like most other fynbos, honeybush should be burnt by the time it is about 20 years old to retain the balance between species. Burning the bushes before 12 years, however, causes severe damage, and the recovery time is lengthy.
Finely honed production techniques
Having the highest-quality honeybush species is important, but it's just the start; the crop has to be expertly converted into a superior and standardised product.
"Over the years, I've worked with botanist and researcher Dr Hannes de Lange, researchers from the Agricultural Research Council, and scientists from various universities to find ways of unlocking the full potential of honeybush," says Nortjé.
After many trials, he was one of the first farmers to ferment honeybush in stainless steel bins rather than in heaps outdoors.
"It doesn't pay to sell a health product if it's contaminated with pathogens. I found pathogen counts to be low in the centre of the heaps, but high on the peripheries."
Initially, he struggled to cut the shoots into adequately fine pieces, but solved this problem when he acquired a tobacco carver at an auction, following the tobacco industry's crash in the 1990s.
Once the honeybush has been cut, it is fermented for 70 hours at 70°C in a 2,4m-long stainless-steel bin. Nortjé uses alien black wattles cut down from his and a neighbouring farm as fuel to heat the bin.
"The trick is to use at least two layers of bricks between the fire and the bin, otherwise the temperature will fluctuate too much," he explains.
After fermentation, the tea is placed on racks to dry in the sun, which can take a day or two, depending on climatic conditions.
"The racks are raised off the ground to prevent contamination. At night, they're placed on top of one another in drying chambers inside the processing plant. The drying rooms are closed off with nets to facilitate air movement, and prevent insects and rodents from entering them," Nortjé adds.
Sustainability
Nortjé follows a meticulous management programme to ensure sustainable production. "We have 700ha under honeybush, but harvests are capped at 20t per year, and less if the plants are under stress because of drought or other setbacks."
The land is subdivided into smaller camps, and the harvesting is rotated between them. The honeybush is left in the camps for at least four years before being harvested for the first time. From then on, the camps are harvested every four to five years, depending on the condition of the bushes.
"Plants grow more slowly during dry spells, so we take that into account. On the upside, dry conditions usually result in tea of superior quality. Fortunately, we rarely experience long periods of drought, as the plants grow so high up on the mountains," he says.
The bushes are harvested with sickles to a height of 10cm above the ground, and thorough records are kept of when each camp is harvested.
Staff
The Nortjés have 12 permanent employees who have years of experience working with honeybush. "They really know the ins and outs of harvesting and processing, so I'm confident that they harvest responsibly," says Nortjé.
The plants are harvested on cool days all year round; this produces a continuous supply, creates year-round employment, and takes full advantage of the farm's processing capacity. Cool conditions are a prerequisite, as the alternative would result in a lower-quality product and would make conditions unpleasant for the workers.
"Harvesting honeybush is highly labour-intensive; you really can't expect people to do it when the weather's hot," he says.
Over the years, Nortjé has developed systems to improve labour efficiency. For example, where donkeys were once used to take the bundles of harvested honeybush from the top to the bottom of the mountain, a pulley system is now used.
While honeybush is their main source of income, the Nortjés also run sheep and cattle as a way of diversifying production risks.
"Our son, Scheltema, is the livestock farmer. He prefers to farm Bonsmara cattle, because they're well adapted to extensive production conditions and mountainous areas. They also have good mothering instincts, which helps prevent predation losses."
Nortjé is keen to add a honeybush tourist centre to his processing facility. "I'd like to create a place where people will be able to taste different kinds of honeybush tea, as at a wine tasting, and see first hand how the tea is produced."
Email Quinton Nortjé at [email protected], and visit melmont.co.za.