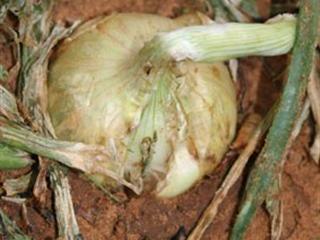 A hail-damaged onion in the Northern Cape.
Up to 10 million kilograms of onions were destroyed.
Credit: Elmie van de Berg
A national onion shortage and a dramatic increase in prices are expected following a devastating hail storm that recently struck a large onion-­producing area in the Northern Cape.
The fields of the country's largest onion producer, Wildeklawer, and those belonging to other producers were hit by a hail storm at Barkly West, northwest of Kimberley. It is estimated that between seven million and 10 million kilograms of onions were destroyed.
Wildeklawer produces about one-third of South Africa's total onion harvest.
The company estimates that prices could rise by as much as 30% in the short term and by as much as 100% towards the end of the year.
Fuelling the threat of a supply shortage is the fact that fewer onions had been planted this season in response to an oversupply that produced a slump in prices. According to Wildeklawer owner Louis de Kock, the national crop was 25% smaller as a result of the decreased plantings.
The Northern Cape Onion Producers' Association said although some regions are less severely affected, its estimation shows the Northern Cape will deliver 1,5 million 10kg bags less to the market this year, which is about 20% of the region's normal annual production.
President of the association JF van der Merwe said the current weather conditions remain favourable for further hail, "which means that further damage is not out of the question."
Adding pressure to the situation is the increased demand from Europe for South African onions due to an unusually hot summer there. "Wildeklawer had experienced an 80% increase in sweet onion export orders and export commitments would have to be met, placing greater pressure on local supplies and price levels."
De Kock cautioned customers against panic buying. "Onions will be available and consumers are best advised to buy sensibly in terms of their needs," he said.
However, Van der Merwe said it will be "impossible for us to supply in the current demand. We also foresee that the shortage situation will continue for at least the next seven months, until the other onion production regions start marketing their onions." – Gavin Grobbelaar