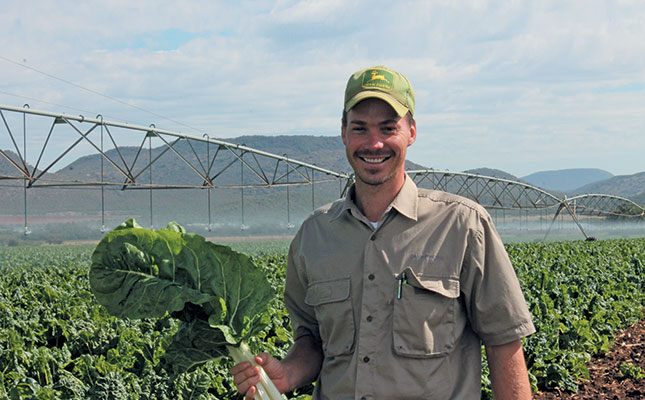 This year's North West Young Farmer of the Year, John Griffiths, is an irrigation farmer based just outside Brits. He has been farming for 14 years, having left school after Standard Eight (Grade 10).
John recalls that his father, also a farmer, was not happy about his leaving school to farm at such a young age, but he was adamant about his decision.
"I was at an agricultural school, but many of the things I learnt by myself. My father also taught me a lot and you learn a great deal from just being involved in the industry," he says.
READ From bankruptcy to national success for Western Cape dairy
John produces a variety of crops, including maize, cabbage and spinach, on 400ha. His land extends over several smaller farms, with 20km separating the furthest properties. This means that he plants under a variety of conditions and in several different soil types – sandy, clay and loamy.
The ongoing drought has been a severe trial for the irrigation farmers in the area. According to John, they were informed at the beginning of the season that their dam had about one month's worth of water left and they were advised not to go ahead with planting.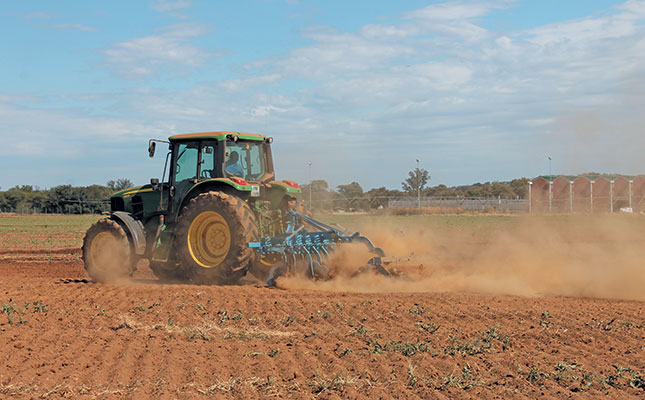 "I nevertheless still went ahead and planted beans and butternuts in faith that the Lord would provide," says John. "At the end of the month, it started to rain and the dams were overflowing, and we managed to produce a good harvest."
Fertilising and soil health
John employs chemical fertilisers.
"On this scale, using only organic fertilisers is just not viable, but we do make use of organic matter to improve soil health," he explains. "Before every planting we do an analysis of the soil quality to determine fertilisation needs. We can then correct the soil nutrition where needed. We also work plant residues back into the soil for organic material."
To irrigate 400ha takes a great deal of work, water and planning. Twenty-two pumps send water from the Crocodile River directly to the lands through centre pivot irrigation and overhead sprinklers.
A large workforce
"I have a full-time team of 35 workers and three managers. We also get in between 50 and 300 seasonal workers at harvest time," says John.
There are 24 vehicles in use on his farm; these include tractors, bakkies, trucks and a harvester. Each tractor driver is responsible for his machine and has his name painted on it.
"It makes the guys proud. Each driver looks after his tractor and ensures it's in good condition," says John.
He plants about 200ha seed maize, 50ha maize, 50ha popcorn maize and 100ha vegetables. This includes about 400 000 spinach plants per hectare, yielding 10 000 bunches per hectare.
"I also plant about 100ha speckled sugar beans per year as a rotational crop," adds John.
He plants maize under irrigation at a density of 80 000 plants/ha and popcorn maize at 65 000/ha. Cabbage is planted at a density of 20 000/ ha. Wheat is sown at a rate of 120kg/ha and oats at 100kg/ha.
John never plants the same cultivar on the land two seasons in a row. The rotation varies, but a cycle usually starts with maize, followed by vegetables or oats, and then maize again.
The main pests that John has to deal with are African bollworm and aphids, which attack the spinach and cabbage, and leaf miners, which target the spinach.
"To combat them, we spray chemical pesticides such as organophosphate and others according to a set programme," says John.
Extensive irrigation
Farming on a number of farms that extend for 20km reduces risk from hail and climatic challenges.
"It also reduces the risk of water shortage," John explains. "Because my land extends for a considerable distance, I irrigate from two dams."
These are the Roodekoppies Dam on the Crocodile River, and the Vaalkop at the confluence of the Elands and Hex rivers. Water from the dams is pumped to 17 centre pivots and fixed overhead irrigation systems.
READ Valuing irrigation lands on a farm
John sells fresh produce at the Johannesburg and Pretoria markets. "We deliver our produce six days a week in both cities with two 8t trucks," he says.
Wildlife: a new venture
John recently expanded his operation to include wildlife such as black impalas and golden wildebeest. He keeps 20 golden wildebeest cows and one bull alongside 30 impala ewes and one black impala ram that run in a 60ha enclosure.
"I'm just starting to breed with them," he explains. "Then we'll start selecting. It's just a small side-line, and the animals will probably be sold as stock for other game farms. I don't want it to be bigger than 5% of my operation."
Advice to young farmers
John stresses that he is not keen to expand the size of his operation significantly. Instead, he wants to grow more fresh produce on his existing land.
"I want to utilise all the available land, because there are small camps in between the lands that I can still use," he explains. "This will only be possible with hard work.  Determination, planning and a good team of people can make anything a success."
John has sound advice for other aspiring young farmers.
"Always have a goal and plan thoroughly," he urges. "Then plan some more and work hard. Don't let negativity such as politics, the economy and crime get the better of you. Remain focused on your goal, and get advice from people who have more knowledge than you. Finally, budget carefully and monitor every harvest's incomes and expenses."
Phone John Griffiths on 082 825 7311 or email him at [email protected].