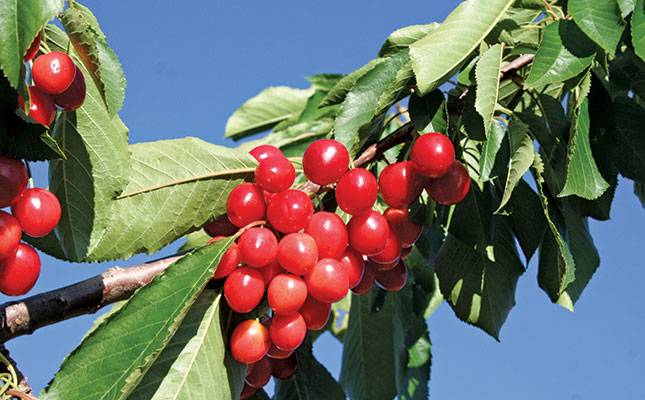 The Witzenberg Properties group comprises seven farming units with a total of 1 100ha planted to pome and stone fruit. Having achieved success with growing apples and pears, owner Pieter Graaff decided in 1997 to diversify into cherry production on the farm Esperanto in the Koue Bokkeveld.
According to Esperanto's estate manager, Derick van Zyl, the area under cherry production was gradually increased to the current total of 22ha.
All of their cherry orchards are planted at least 1 050m above sea level.
Derick and his team grow a variety of cultivars on Esperanto, but after years of trial and error, have settled on three sweet varieties for the bulk of the production: Bing, Sweetheart and Royal Dawn. This is due to their high yield, fruit size (at least 26mm in diameter), and deep-red colour.
Cherry production poses a number of challenges for growers, among which are cost, irregular yield and sensitivity to soil and climatic conditions.
According to Derick, the start-up cost of a cherry orchard is between R250 000/ ha and R300 000/ ha. "The trees start to bear fruit after three years, but full production can be expected only after an additional three years," he explains.
In addition, cherry trees are alternate-bearing, so Derick advises aspiring cherry farmers to grow this crop only as a supplement to existing crops.
Moreover, the production area for cherries is somewhat limited. "Cherries are a high-chill crop, with most commercial varieties requiring between 1 600 and 1 700 chilling units. Fortunately, the Koue Bokkeveld meets this need," he says.
Well begun is half done
It takes significant attention to detail to establish cherry orchards and bring them into production.
"Cherry trees must be planted in well-drained soil, as they're highly susceptible to root rot," explains Derick. "You also don't want to plant them in low-lying
areas because these get more frost in early spring."
Cherries are also prone to wind bruising and the orchard must therefore be located in a sheltered location.
The trees are planted against trellises at an intra-row spacing of 4,5m. This produces a high planting density of 1 481 trees/ha.
A leaf analysis is conducted by mid-January and supplements and fertiliser are administered accordingly. A soil analysis is carried out every three years.
Cherry trees are vulnerable to bacterial canker, root phytophthora and bollworm, in addition to various pests and other diseases. Due to the short growing period (only about 60 days) and relatively dry spring of the Western Cape, however, the impact of these is greatly reduced in this region.
Harvesting starts in mid-November. In the weeks and days leading up to harvesting, cherries require much attention. Derick inspects the orchards daily to check the cherries for size, colour and quality.
"Tasting them is the best way to determine whether they're ready to be picked," he says.
Because of the short growing period, the margin for error is very small. Cherry-picking is also highly labour-intensive, and the number of staff on Esperanto can swell to almost 500 during harvesting. Each cherry is handpicked, stem and all.
A tree can be harvested up to six times during the season. The harvested cherries are sent to the packhouse as soon as possible, where their core temperature is rapidly lowered using a hydro-cooler.
According to Derick, cherries require a considerably higher level of pollination than apples and pears. During spring, Derick places beehives, which he leases on a long-term contract, at a density of 12/ ha to pollinate the trees.
A new, advanced, on-farm packhouse
In 2015, a cherry packhouse, which Derick regards as one of the most modern in South Africa, was built on Esperanto. The facility has the capacity to handle 600t of cherries per season.
"It's a long-term investment, but thus far it has improved production significantly.
Previously, we used to pack 5t per daily nine-hour shift; now we pack 22,5t per shift."
The packaging facility is almost entirely automated, and each cherry is sized and sorted by a high-tech machine.
The system, imported from Italy, is equipped with two cameras that detect defects in colour and size, as well as internal and external flaws.
Due to its extreme accuracy, it selects only cherries of a consistent size and of the highest quality.
Once the cherries are packed into punnets, they are loaded onto refrigerated trucks and transported to various distribution points.
Fresh cherries are sold at the local fresh produce market, and between 30t and 40t of the annual crop are sold at selected Woolworths outlets. Most of the business's fruit marketing is done by Tru-Cape.
International demand for cherries is strong, and the company has exported a small percentage of the crop over the past three years. No more is possible at this stage, as local demand currently accounts for almost all of the farm's current production. In addition, admits Derick, "although the [returns are] somewhat higher, the risks involved are very great".
The current local price for cherries is usually between R80/ kg and R100/ kg, but it can be as high as R120/ kg, making it a profitable crop despite the challenges.
Esperanto plans to expand production by another 8ha by October. This area will be under netting. "Birds love cherries," says Derick. "We can easily lose 10% of our yield to them.
The netting will provide protection against birds and reduce potential losses."
The protection provided against hail is an added bonus.
South Africa currently produces about 1 000t of cherries every year. According to Derick, cherry production in the Western Cape will increase to about 1 500t over the next eight years, as new plantings come into production.
Email Derick van Zyl at [email protected].