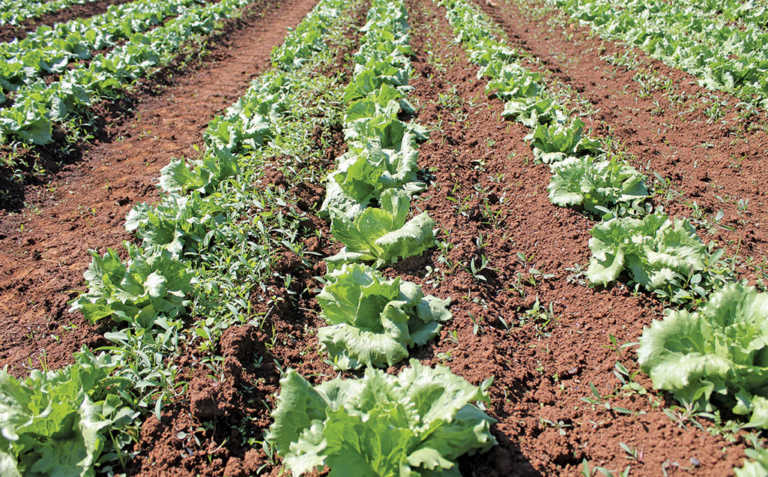 The Sitaram family's journey to becoming large-scale commercial fresh produce growers was long and difficult. Their first and perhaps greatest setback was during the apartheid years: they were unable to own land on which to develop their commercial farming operation.
Instead, Raj Sitaram (79) and his sons, Dicky (56) and Koshik (51), had to settle for the short-term leasing of a succession of southern KwaZulu-Natal farms.
READ Interesting facts about lettuce
This changed in 1992 when they bought their first farm in KwaZulu-Natal's Sevenoaks area. It comprised 130ha, of which 60ha were irrigated. However, for various strategic reasons, they sold it in 1999 and again began leasing farms, this time in the province's Tala Valley area, for fresh produce production.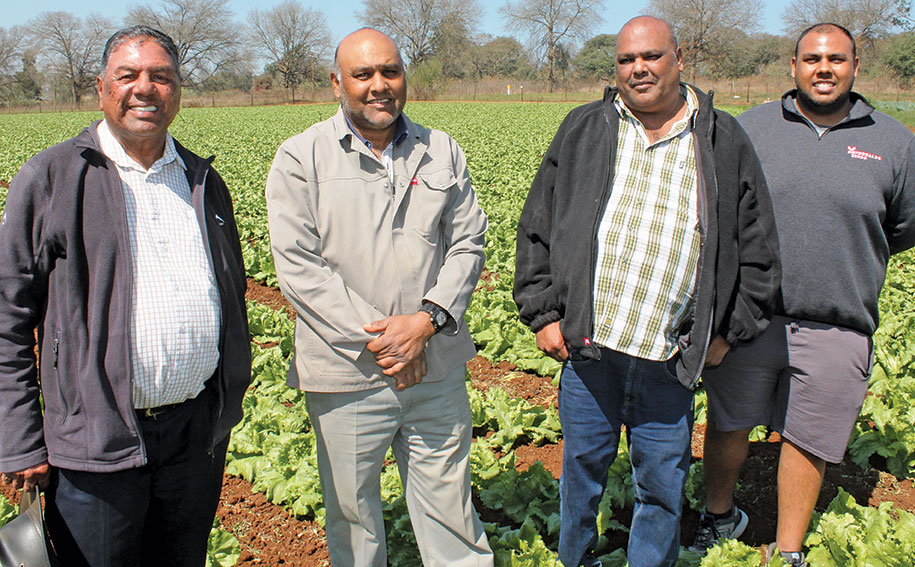 "From 2005 to 2010 we leased 20ha of the highly productive Southfork farm in Tala Valley," recalls Dicky, the operation's marketing manager and principal financial planner.
"Our operation started doing well and this allowed us to build up enough capital to buy the 71ha Tegwaan Nest in the Baynesfield area in 2010. This is where we still farm.
"The Land and Agricultural Development Bank of South Africa played a vital role in providing finance for the purchase of the farm, as well as for our start-up production costs."
Koshik, who manages the day-to-day farming operations with his father and assistant manager Offer Kapisa, says a priority was to rehabilitate the existing 50ha semi-permanent overhead sprinkler irrigation system and expand it to cover the entire farm.
This was achieved rapidly, and now, by drawing water from the nearby Umlaas River with permission from the Umlaas Irrigation Board, all of Tegwaan Nest can be irrigated in a five-day cycle.
"We presently grow and market lettuce, cabbages, carrots, spinach, peppers, coriander, beetroot, celery and parsley," explains Dicky. "These are sold to about 20 retailer and wholesaler customers in Durban, Pietermaritzburg, Greytown, on the KZN South Coast, and even in Lesotho. About 40% of our production is collected from the farm, and we deliver the rest with our own vehicles."
Year-round production and demand
Sitaram Farming CC, which owns Tegwaan Nest Farm, has made lettuce (Lactuca sativa) its core production focus. This crop was chosen due to its year-round demand and the fact that varieties are available for both summer and winter production.
In the summer months, with planting in August and harvesting from November to April, the team grows Stark Ayres's Musketeer Iceberg, a crisphead lettuce variety. For their winter season crop, which starts with planting in March and harvesting from June to August, they grow Esky Iceberg.
"We buy about 80% of our lettuce seedlings from Netherby Nursery in nearby Richmond and the balance from CPS Seedlings in the Greytown area," says Koshik. "The seedlings are six weeks old when they arrive and we transplant them at 60cm inter-row and 32cm intra-row spacing. This gives an average density of 53 000 plants/ ha.
"The seedlings must be this age at transplanting so they're hardy enough to cope with the stress of being transplanted. This also fits into our production and harvesting schedules."
The Sitarams use crop rotation as a means to minimise the build-up of pests and diseases. Lettuce crops are thus never grown in succession, and are rotated with spinach, carrots, cabbage or coriander.
Planting
In preparation for planting lettuce, the management team first sends in a tractor-drawn slasher or disc harrow to mulch any residue of the previous crop and incorporate this into the soil.
This is followed by ripping the land to a depth of 40cm to 50cm to break up any subsoil compaction.
winter, the lettuce crops get a side-dressed surface application of limestone ammonium nitrate fertiliser at a rate of 250kg/ha to 300kg/ ha. Two weeks later, they receive a side-dressed surface application of 1(N):0(P):1(K) fertiliser at 200kg/ha.
"Once the lettuce seedlings have been transplanted, we usually give them a foliar feed spray every two weeks until harvesting," says Kapisa.
"This consists of a combination of the essential micronutrients magnesium sulphate, manganese sulphate, copper sulphate and boron at a rate of about 1kg/ ha, and molybdenum at a rate of about 100g/ha.
"But if we see that a particular crop of lettuce doesn't need a foliar feed application, we don't apply it."
The decision of whether or not to spray foliar feed is based on visual inspection of the plants. For example, a manganese deficiency typically manifests in mostly yellow leaves that are dark-green close to the veins.
A magnesium deficiency commonly shows as a yellowish bleaching between the veins of the lower leaves. With a boron deficiency, some of the new-growth leaves turn yellow.
A tractor-mounted, 18m-wide Jacto air sleeve boom sprayer is used to apply foliar feeding.
Pesticides and herbicides
The team tries to minimise stress on the lettuce crops proactively, but if a pest or disease persists, they seek professional advice from their agrochemicals consultants on how best to tackle the problem.
For example, DuPont's Steward pesticide is used, but only if absolutely necessary, to control bollworm, and Arysta LifeScience's Lambda pesticide is applied to control cutworm.
A fungicide recently recommended by agrochemical consultants will be used to tackle lettuce downy mildew.
READ Weeds: the biggest threat to SA's crop production
"Keeping our lettuce crops optimally irrigated is important to enhance growth and minimise plant stress. But we don't want to waste water through blanket irrigation," explains Kapisa.
"To maximise our water-use efficiencies, we employ computer software, weather forecasts
and soil moisture sensors to calculate when and how much irrigation a particular lettuce crop will need. We have a semi-permanent irrigation system with overhead sprinklers to apply the water."
Seven to eight weeks pass between transplanting and harvesting the Musketeer variety summer lettuce crop.
"We achieve an average of about 80% final harvest from the transplanted seedlings, which we're very satisfied with. We're proud of the quality of the lettuce we market," says Koshik.
The future
The Sitaram family have a number of plans to improve production and cost efficiencies, and thereby to increase the profitability of the business. For example, they aim to use technology to ensure that their planning and decision-making is more data-driven.
This will help shift their management actions increasingly from reactive to proactive and preventative strategies.
"We want to continually improve crop quality and yields, and reduce our input costs. Improved profit margins will allow the business to expand its farming operations, creating additional jobs and improving food security," says Koshik.
Phone Sitaram Farming CC on 031 785 1320 or Dicky Sitaram on 082 833 2300, or email [email protected]