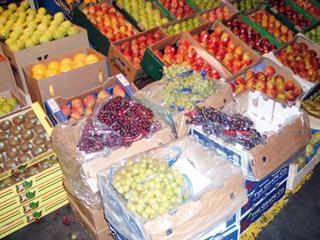 ALTHOUGH PRODUCERS SHOULD work in partnership with retailers to ensure their products get on to and remain on the shelf, retailers' knowledge and role in the supply chain often seem all-powerful to growers. "But be wise and understand that it's consumers and not retailers who buy your produce. It's consumer knowledge about your products and your knowledge as exporters about consumers that is all-important," says Roger Jupe of Richmond Towers. He was one of the speakers at the recent allFresh! Conference held at Sun City.
Wealthy buyers
Jupe says the secret to success in exporting to the UK is to target affluent consumers in Britain's ABC 1 socio-economic category (comparable to SA's top living standards measures or LSM figures).
Food choice is becoming a class issue in the UK. Over the past five years there has been a steady increase in the number of consumers entering the ABC 1 category. This group consists of professionals and managers, and account for 55% of all UK adults.
Convenience shopping, food provenance or origin, organic produce, fair-trade products and genetically modified (GM) produce are some of the factors influencing choices of the ABC 1 category consumer. In the past six years there's been a rapid increase in the number of convenience shops in the UK. These stores, with floor space of no more than 280m2, are often joint ventures with petrol companies. "Whatever the right or wrongs of the impact of this on the retail landscape in Britain and on consumer choice, these outlets reflect the desires of consumers for convenience," Jupe says.
Consumers want to shop at convenient hours at a shop that is a few minutes from where they work or live. "Shoppers want convenience on a plate," he says. Only 12% of people now cook meals from scratch. Ten years ago this figure was 39%.
Farmers will have to meet this demand by providing convenient, ready-to-eat products for the consumer. "We feel this trend is not going to go away. We have to educate our producers and everyone in the fruit supply chain about new consumer demands, otherwise we won't have a UK supermarket programme any more," says Thomas Mouton, commercial manager for the Pome Fruit department at Colors Fruit.
Richard Hurndall, technical service manager for the Deciduous Fruit Producers' Trust says the pre-cut fruit trend is very prominent in apples. This is a positive development as pre-cut fruit is increasingly being used in children's lunchboxes. "This is the future of fruit," Hurndall believes.
Food origin gains importance
According to Jupe food provenance in the UK reflects that more ABC 1 consumers are prepared to pay a premium for tasty and hormone-free food. "The affluent UK consumers are not talking about the weather at the dining table. Instead they are talking about what's on their plates and where it comes from," Jupe says. The explosion of farmer markets in the UK indicates the growth in food provenance. Five years ago there were only three markets, now there are over 500.
Although class is becoming more important in food choices, Mouton says exporters shouldn't neglect consumers in other socioeconomic groups. Many supermarkets have stringent requirements for the produce they accept, but there are supermarket discounters that cater for consumers in other socioeconomic groups.
Principled buyers
Britain is experiencing growth in ethical consumers and the demand for fair-trade products. Derek Donkin, general manager of the SA Avocado Growers' Association, stresses the growth in fair-trade products can be very profitable for local growers. Last year the UK overtook Switzerland as the biggest fair-trade market. In Britain sales of fair-trade products are up by 40%. "Today those consumers who want to directly do something to relieve world poverty can simply select foods that guarantee a better deal for third world producers," Jupe says.
Capespan has pioneered the export of fair-trade products such as grapes, citrus, apples, pears and stone fruit from SA. However, Louis Kriel, head of Capespan Fruit, cautions that the fair-trade product share in the UK is a niche market and a small percentage of consumers support it.
Kriels warns that while social buying habits are more important to UK consumers as they have a higher disposable income, it won't be commercially viable as an industry on its own.
Organic mania
The demand for organic produce is also growing in the UK and 75% of organic fresh produce sold in British supermarkets come from abroad. "That's important for SA producers," Jupe says.
Hurndall says the industry is looking to establish organic standards for apples and pears exported to the UK. But the EU will have to change its approach as UK consumers are demanding more organic fruit.
Britain's organic fruit and vegetable market is the largest in Europe and supermarkets account for nearly half of all organic sales. But Jupe estimates that organic produce will never exceed more than 10% of the total fruit and vegetable volume sold in the UK. "I'm not sure if I would become totally organic if I was a farmer in SA and the UK was my key export market."
On the flip side, UK consumer choices are changing significantly, but this market isn't ready for the introduction of GM produce. "The GM issue continues to promote bitter controversy," Jupe says. According to Hurndall anti-GM sentiments are fuelled by consumers' suspicion of their regulatory systems. "Their ethics are driven by emotion."
Following trends
Stefan Conradie, product manager for the SA Stone and Pome Fruit Organisation, feels access to industry information and competitor knowledge will determine the success of local growers in the export market. "We must know about prices and where to send our produce to make marketing decisions," he says. If growers understand consumers they will know which varieties to plant. In stone fruit, varieties are only suitable for five to eight years before newer varieties enter the market. "Growers will need excellent information to decide what to plant," Conradie says.
Fragmentation in the industry must also be addressed. "All role-players need to work towards the same vision in the industry. Growers and exporters should work together to create transparency in the industry in marketing and at farm level."
Information about the industry and consumer trends will empower growers to make good decisions.
"We are operating in a global market and it's very competitive. I am positive that in the next year or two we will be able to adhere to a lot of the requirements," Conradie says. |fw
Caption:
SA fruit at the London Market. Food choice is becoming a class issue in the UK.