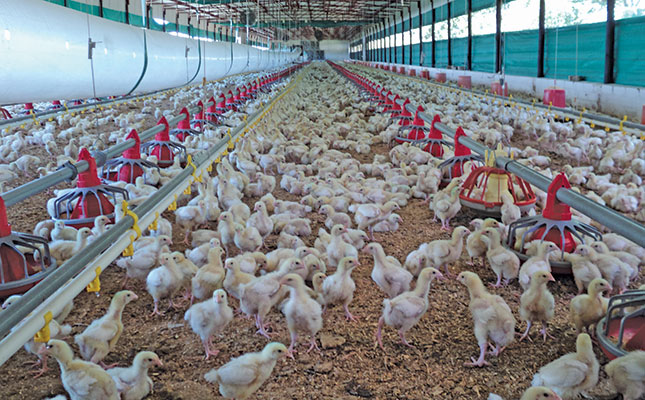 It can also be carried out nearly anywhere in South Africa, whether in a backyard, on a small to medium-size farm, or as a multimillion-rand enterprise. So says Jan Grobbelaar, the training director at Dumela Poultry Solutions.
Notwithstanding this flexibility, he advises that the prospective farmer start with at least 5 000 chickens for a broiler business. This would require a farm of around 3ha in size.
"The location of the farm is paramount, as it will greatly reduce or increase costs in terms of transport to the abattoir, market and input suppliers. The farm should also preferably be far enough from any other chicken farm to prevent the spread of disease.
"A clean water supply is important. If you're using borehole water, it should be tested first to ensure it's not harmful to the chickens."
An environmental impact assessment (EIA) is required before embarking on commercial broiler production. The cost of this varies from R80 000 to R250 000, depending on the tests and water licence needed.
Grobbelaar stresses the importance of carrying out a thorough market assessment beforehand.
"This will provide an indication of the number of chickens to produce, the frequency of delivery, and the type of product (live birds, freshly slaughtered, frozen or pieces) that customers require.
"The market will also determine if your product will be reared in a deep-litter or free-range system."
Chickens are dependent on the inside environment of the chicken house, and this is one cost that a farmer should never skimp on.
"A broiler house must be built with steel, concrete, bricks or insulated material, and insulated according to the local climate. This will ensure that the environment, especially the temperature and airflow inside the chicken house, can be controlled," says Grobbelaar.
"A biosecurity programme should be designed to prevent poultry disease-causing organisms from entering the farm, as well as prevent the spread of disease on the farm itself. It should include fencing, controlled entrances and proper hygiene measures, such as showering in and out."
The bottom line
The start-up cost of a broiler operation is about R200 000, depending on the area. This figure includes an EIA and turnkey insulated brick and steel house with curtain, perimeter fence and gate, pressure washer, feed store and ablution.
The estimated budget for one 35-day rearing cycle, including chicks, feed and slaughtering, is R180 000. The cost of overheads, including electricity, cleaning material and transport, is about R8 500, with staff salaries adding another R15 000.
With an estimated income of about R225 000 per cycle, margins are tight, and return on investment could take a number of years.
Email Jan Grobbelaar at [email protected].